Slow PCFighter is a program, which we can categorize as fake system optimizer. It is a clone of another fake PC optimizer called WinMaximizer In short, this virus tries to trick users into believing their computers are under severe virus attacks and tries to get their money by providing the fix for the fake errors they create.

We have some reports from the users, that Slow PCFighter installs into system without the expressed consent of the user. After the instalation this fake system optimizer starts checking the system and shows highly exagerated reports about the system. It states that you have some registry errors, that your system was compromised, finds a lot of false positives which Slow PCFighter labels as insecure. The trick is that Slow PCFighter promises to eliminate all identified problems. Slow PC Fighter 2012 found almost three hundreds items on clean test machine.
is Slow PCFighter a virus?
There is nothing malicious with the program itself, but people call Slow PCfighter a virus. It looks like a virus because of too many false positives and fake threats. So if you try so search for information about Slow PCFigter, there are suggestions in the google, that this program might be a virus or a malware.
What to do if you infected?
Do not pay them money. If you will pay, you will not get your money back even if you dispute the charges in the bank. Ignore all the error results. Also it is a good idea to scan your computer with reputable anti-spyware software. From the recommended ones are spyhunter, spyware doctor and malwarebytes anti-malware.
Slow PCFighter download:
not recommended
Slow PCFighter was carefully tested by 2-spyware.com research center. The review is the result of our test. If you know additional information about Slow PCFighter please
send us the note
Advice:
If your computer seems sluggish, or you are suffering from unwanted advertisements and redirects to unknown websites, we highly recommend you to scan it with reputable anti-spyware program. Do some FREE scan tests and check the system for unwanted applications that might be responsible for these problems.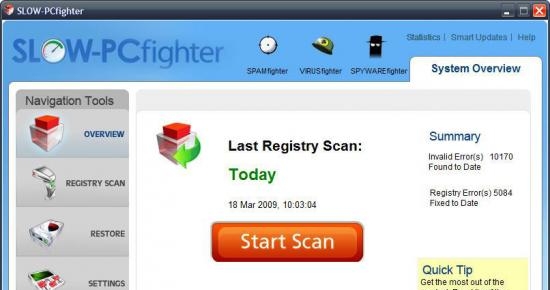 About the author