Spyware is a category of cyber threats that describes malicious programs designed to infect PC systems and then initiate illegal activities on them. In most of the cases, the functionality of such threats depends on the intentions of their vendors: some part of spyware threats can be used to collect personal information (logins, passwords and other personally identifiable data) and then send it to their owners through the background Internet connections, while other spyware viruses can track their victims and collect information about their browsing habits. They are used to track people and record their mostly visited web sites and actions that are taken when visiting each of them. This information is mostly used for marketing and advertising of various parties, so spyware can also lead you to an increased amount of spam.
Some part of programs shouldn't be considered spyware threats, no matter that they are capable of collecting non-personally identifiable information about the user. Be sure that they do not steal names, contacts or any other details about the user, so, therefore, they cannot violate your privacy. There are lots of legal advertising applications or adware that should be added to this category. Although legal ad-supported programs are capable of spying on PC users, they shouldn't be accused of privacy violation.
Ways that are used by spyware to infect computers
Spyware parasites can infect the system without users' approval. These pests are capable of infecting their target PC systems with the help of these techniques:
1. Misleading marketing. There are lots of spyware developers that seek to deceive the user by presenting their spyware programs as useful tools, for example, a powerful web search service, fast download manager or a reliable Internet accelerator. Users download and install such programs. However, practically all of them appear to be either completely useless or ineffective. Although the most of such programs can be uninstalled manually, their malicious components stay in the system and remain fully functional.
2. Software bundles. There are lots of free programs that are bundled with with dangerous add-ons, extensions and plugins. They are presented as components that are needed by the host program to work properly. Unfortunately but the most of such add-ons are actually third-party spyware parasites. Uninstalling the host application does not remove the spyware.
3. Security vulnerabilities. They and vulnerabilities of the web browser have been used for spreading different threats, including spyware. Their vendors run insecure web sites filled with malicious code or distribute unsafe pop-ups, banner ads and links via email messages. Whenever the user visits such a site or clicks on such pop-up ad, a harmful script drops spyware virus. The user cannot notice anything suspicious, as such viruses do not display any setup wizards, dialogs or warnings.
4. Other threats. It is also known that some types of spyware have been actively distributed by other viruses. Trojans, worms, and backdoors are the most dangerous viruses that can cause infiltration of spyware.
What spyware threats can be used for: 
Stealing sensitive information. Such programs are interested in personal information, such as logins, passwords, banking data and similar information. In addition, they can monitor user's online activity, track his or hers web browsing and send all collected data to its remote server.
Showing undesirable advertisements. Spyware can display large amount of annoying pop-up ads. Such activity is mostly related to adware parasites. 
Redirecting users to questionable or malicious websites against their will. In addition, some types of spyware threats are capable of changing web browser's settings and altering the default search provider and the home page. 
Creating numerous links in victim's search results and redirecting his/her to needed places (third-party spyware sites, related websites and other domains).
Causing modifications of essential system settings. These changes can decrease overall security and initiate performance-related issues.  
Connecting to a compromised computer through its backdoors. The most of spyware threats are capable of giving hackers a remote access to the system without users' knowledge. 
Degrading overall system performance and causing its instability. 
Examples of spyware threats:
There are thousands of different spyware parasites. The following examples illustrate how treacherous and harmful spyware can be.
Security Bytes 2015 is the spyware threat that hails from the huge family of similar viruses. All of these threats are used to scare people into purchasing their licensed versions. However, they can also cause redirects to malicious websites that are promoting other questionable tools. As soon as Security Bytes 2015 infect computer, it drops its files and starts showing fake system scanners. These scanners are followed by fake notifications reporting about hundreds of infected files. From the first sight, Security Bytes 2015 may look like a very useful application. However, it seeks the only thing – to steal the money and trick the user into revealing his or hers passwords, bank account details and other personal data. 
HDD Repair is a malicious program that can also be categorized as spyware. It made the headlines because of its misleading claims offering people to improve the functionality of their computers. Once this threat infects computer, it offers checking the system for bad files and useless registry entries that are typically left on the system after installing and uninstalling different programs. In addition, it reports about enormous quantity of threats and offers removing them with the help of its paid version. Various HDD Repair variants are also bundled with other ad-supported software and can get into the system from insecure web sites.
Windows AntiBreach Module spyware is targeted at scary PC users who seek to fix their computers. Its description says that the program was created for helping people to improve their security but this is a lie. If you really want to fix your machine, you should stay away from this program and run a full system scan with the reputable anti-spyware in order to remove malicious files of this spyware parasite.
Spyware removal tips:
As it was said above, spyware parasites are dangerous viruses that cannot be removed with the help of manual removal methods or regular antivirus products. To remove such pests, you need to install special anti-spyware tools (spyware removers) that are capable of scanning the system in similar way as advanced security software. Such programs also have special parasite signature databases that allow them to detect and eliminate the most of the latest spyware threats. Here are the most powerful spyware removers: FortectIntego, SpyHunter 5Combo Cleaner.
In some cases even a spyware remover can fail to help you get rid of a particular parasite. That could happen because of advanced techniques used by spyware to prevent its removal. Beware that such programs can block your scanner, hide their files and use other techniques for preventing their elimination.  
Latest spyware added to the database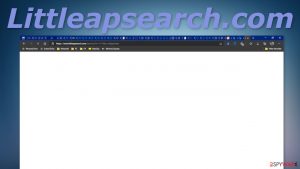 Littleapsearch.com appears when you use the search engine.

Rombertik virus – a data-stealing infection that could affect anyone's browser.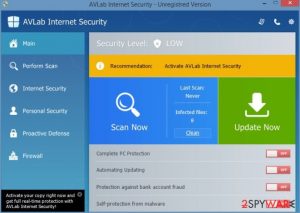 What is AVLab Internet Security? AVLab Internet Security is a computer virus, which seeks to swindle people's money.
Information updated: 2017-05-11