What is conime.exe? Should I remove it?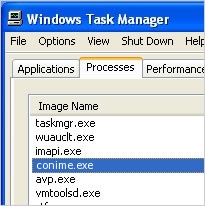 conime.exe is a legitimate file, which is also known as Console IME. This executable is a Microsoft signed file that is used for the procedures associated to input method editor. In most of the cases, conime.exe is found in the C:\Windows\System32 folder and takes from 69,120 bytes to 27,648 bytes of PC's memory. To sum up, conime.exe helps people to use the keyboard and enter the complex characters and symbols. If you don't want to have problems with that, you shouldn't terminate this Windows system file.
DANGER!
Malware creators use the names of legitimate files in order to hide their own viruses. conime.exe has also been involved into this activity, so if you found it in your system, it may be that it is infected by trojan horse or worm. According to security experts, conime.exe is added by BFGhost 1.0 trojan horse and W32.Slurk.A worm. Keeping such viruses on the system is very dangerous because they can easily be set to steal valuable and personally identifiable data or give the attacker full remote access to an infected computer. In order to check the trustworthiness of conime.exe, you should run RegCure Pro. It is also recommended scanning the system with Reimage or Malwarebytes Malwarebytes that will help you to remove all malicious programs from the system.
verdict - status of the file:
diagnosis required
Advice:
If your computer seems sluggish, or you are suffering from unwanted advertisements and redirects to unknown websites, we highly recommend you to scan it with reputable anti-spyware program. Do some FREE scan tests and check the system for unwanted applications that might be responsible for these problems.
About the author
Removal guides in other languages