What is MRI6219316107.js? Should I remove it?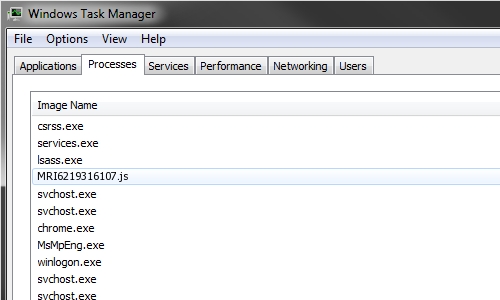 What is MRI6219316107.js file and what it does?
If you encounter a JS file extension on your computer, you should know that it is mostly associated with JavaScript files. These files contain a JavaScript code which is used for carrying out the client-side web page instructions. JavaScript may be responsible for a number of functions, like automatically changing formatted dates, open linked pages in a new browser window, changing an image or text via mouse rollover, etc. JavaScript codes can also be used for creating dropdown boxes with some interactive options. Nevertheless, such files are also used considerably frequently by creators of different trojans, viruses, and worms.
In fact, this particular MRI6219316107.js file is also thought to be related to one of today's most notorious ransomware, which is called as Locky virus. Security experts have noticed that the infected Word documents, coded with a macros script which was previously used for Locky distribution have now been shifted to JavaScript files. It can be presumed that such decision was taken because using JavaScript it is much easier to sneak Locky into the victim's computers. Another aspect which might have encouraged the developers of this malicious program to switch to JavaScript is an attempt to avoid being detected by anti-malware software. The infected file is compressed and distributed through spam emails in a ZIP file. Once the ZIP file is extracted, the virus uses PLib-depack function to decompress and activate the virus download. An interesting characteristic of this program is that it runs a process to determine if the operating system is Russian. If it finds out it is the case, it uninstalls itself. If not, the files on the device begin to be scanned and encrypted. Therefore, if you find MRI6219316107.js file attached to some email you received from an unknown and suspicious sources, by any means should you decompress the file. If you do, the virus will be activated, and your files will be encrypted. For the mentioned reasons, you should remove MRI6219316107.js file as soon as possible if you find it residing on your computer.
How to prevent this file from entering your computer?
The first thing you should do to avoid this file from appearing on your computer is to equip your computer with some reputable antivirus tool like Reimage. It will diminish your chances of downloading suspicious files and will protect you from other Internet threats. Most importantly, you have to look out for the virus yourself. You have to remember that this infectious file spreads through email attachments. So, be careful when opening new emails and downloading attachments.
How to remove MRI6219316107.js file from the computer?
The good news is that MRI6219316107.js removal is a possible option. Nevertheless, if you have already opened the file, you may have to deal with a lot more complicated problem than this. Locky virus may have already encrypted your files with no way to retrieve them other than purchasing the decryption key from the virus developers. Therefore, deleting this file should not be your priority at this point, and you should think about killing the virus. You can do that by using a reputable and updated antivirus tool. It is also important to know that Locky is an aggressive virus and may prevent your antivirus software from running. If such situation occurs, please follow our expert-prepared instructions in the Locky ransomware description.
verdict - status of the file:
dangerous file
Advice:
If your computer seems sluggish, or you are suffering from unwanted advertisements and redirects to unknown websites, we highly recommend you to scan it with reputable anti-spyware program. Do some FREE scan tests and check the system for unwanted applications that might be responsible for these problems.
About the author
Removal guides in other languages