What is svchost.exe? Should I remove it?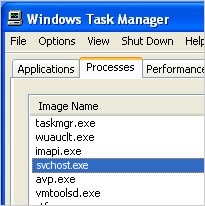 What is svchost.exe file?
svchost.exe is one of the most known system processes which is legitimate and safe. It belongs to Microsoft Windows and is responsible for handling processes executed from DLLs. You can find several examples of this process in your Control Panel -> Services section, so don't be shocked after discovering 10 or 14 identical processes running in your Control Panel. However, one example of svchost can hold multiple Windows services for trying to minimize the consumption of system resources.
Questions about svchost.exe
Nevertheless, you still notice svchost.exe heavy CPU usage on your computer. In this case, you should disable the service that is related to this high usage process. For that, follow these steps:
Open the Task manager by clicking Ctlr+Alt+Del at once.
Go to "Processes" tab and select "Show processes from all users".
Right-click the svchost.exe process that you can see to cause a high usage of CPU and select "Go to Service(s)".
Here, you should pay attention to services that are highlighted. They are the ones that run under the svchost.exe process.
To stop a service, right-click on it and select "Stop Service".
Keep in mind that you should never remove this essential system process from your computer. It's important for the safe and stable run of the computer system.
What are the dangers related to svchost.exe?
We must warn you that various parasites try to hide themselves under the names of legitimate system files. Svchost.exe is not an exception. If you noticed Svchost.exe high usage problem on your computer, you should look at its name closer. In most of the cases, malicious examples of this file have typo mistakes in their name, such as svchosts.exe, scvhost.exe, scvhosts.exe, svchostc.exe, xsvchost.exe, and similar. In addition, you can spot a malicious version of svchost.exe by scanning your computer with the reliable anti-spyware software. To find a virus, you can use Reimage or Malwarebytes Malwarebytes.
verdict - status of the file:
diagnosis required
Advice:
If your computer seems sluggish, or you are suffering from unwanted advertisements and redirects to unknown websites, we highly recommend you to scan it with reputable anti-spyware program. Do some FREE scan tests and check the system for unwanted applications that might be responsible for these problems.
About the author
Removal guides in other languages