ISTbar. How to remove? (Uninstall guide)
Information about ISTbar:
ISTbar, also known as Adware.Istbar is a malicious Internet Explorer search toolbar that hijacks a web browser by changing its default start page and modifying related settings. It also adds numerous bookmarks leading to advertising resources, displays undesirable pop-up advertisements and pornographic content. ISTbar downloads and installs multiple third-party adware and spyware parasites without asking for user permission. It has the ability to silently update itself via the Internet. ISTbar is usually installed by some infamous advertising and pornographic websites. The parasite automatically runs on every Windows startup. It places its files on Windows registry, and it is quite hard to find all these files and delete them in order to remove this computer parasite.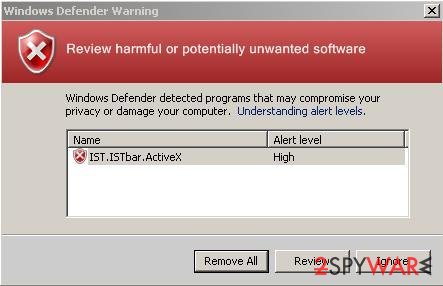 How can ISTbar hijack computers?
ISTbar is distributed as a software attachment, but you can also accidentally install it if you tend to browse through unreliable websites. As we have already mentioned, it can be distributed on various porn websites; also, it can be sent by mail. To prevent silent installation of ISTbar, you need to be careful when surfing the web. Do not open Spam or Junk emails and do not download the attachments from such e-mails. Also, be attentive while installing new programs. Make sure you choose Advanced or Custom installation mode and then untick the agreement to install ISTbar.
How to remove this malicious program?
ISTbar virus can be deleted manually, but you can check the manual removal method below this article – and you will see that it is very complicated to do and might take a long time to remove it entirely. To delete ISTbar completely, you should use a professional removal tool. So you should install Reimage and run a full system scan with it.
ISTbar manual removal:
Kill processes:
istsvc.exe,istdownload.exe,gjefpet.exe,juhpad.exe,sfsetup.exe,sidefind.exe
Delete registry values:
HKEY_LOCAL_MACHINESOFTWAREMicrosoftWindowsCurrentVersionRunIST Service
HKEY_CURRENT_USERSoftwareMicrosoftInternet ExplorerMainStart Page=[site address]
HKEY_CURRENT_USERSoftwareMicrosoftInternet ExplorerMainSearch Bar=[site address]
HKEY_CURRENT_USERSoftwareMicrosoftInternet ExplorerMainSearch Page=[site address]
HKEY_CURRENT_USERSoftwareMicrosoftInternet ExplorerMainBandrest=never
HKEY_CURRENT_USERSoftwareMicrosoftInternet ExplorerMainUse Search Assistant=no
HKEY_CURRENT_USERSoftwareMicrosoftInternet ExplorerSearchSearchAssistant=[site address]
HKEY_LOCAl_MACHINESOFTWAREMicrosoftInternet ExplorerMainBandrest=never
HKEY_CURRENT_USERSoftwareIST
HKEY_CURRENT_USERSoftwareISTbar
HKEY_LOCAL_MACHINESOFTWAREISTsvc
HKEY_LOCAL_MACHINESOFTWAREISTbar
HKEY_LOCAL_MACHINESOFTWARESidefind
HKEY_LOCAL_MACHINESOFTWAREYourSiteBar
HKEY_LOCAL_MACHINESOFTWAREMicrosoftDownloadManager
HKEY_LOCAL_MACHINESOFTWAREMicrosoftSidefind
HKEY_CLASSES_ROOTBrowserHelperObject.BAHelper
HKEY_CLASSES_ROOTBrowserHelperObject.BAHelper.1
HKEY_CLASSES_ROOTISTbar.BarObj
HKEY_CLASSES_ROOTISTactivex.Installer
HKEY_CLASSES_ROOTISTactivex.Installer.1
HKEY_CLASSES_ROOTISTactivex.Installer.2
HKEY_CLASSES_ROOTISTx.Installer
HKEY_CLASSES_ROOTISTx.Installer.2
HKEY_CLASSES_ROOTPugi.PugiObj
HKEY_CLASSES_ROOTPugi.PugiObj.1
HKEY_CLASSES_ROOTSideFind.Finder
HKEY_CLASSES_ROOTSideFind.Finder.1
HKEY_CLASSES_ROOTTestContentMatchControl1.ContentMatchTag
HKEY_CLASSES_ROOTTestContentMatchControl1.ContentMatchTag.1
HKEY_CLASSES_ROOTYsb.YsbObj
HKEY_CLASSES_ROOTYsb.YsbObj.1
HKEY_CLASSES_ROOTYSBactivex.Installer
HKEY_CLASSES_ROOTYSBactivex.Installer.1
HKEY_CLASSES_ROOTCLSID{018B7EC3-EECA-11D3-8E71-0000E82C6C0D}
HKEY_CLASSES_ROOTCLSID{386A771C-E96A-421f-8BA7-32F1B706892F}
HKEY_CLASSES_ROOTCLSID{42F2C9BA-614F-47c0-B3E3-ECFD34EED658}
HKEY_CLASSES_ROOTCLSID{5F1ABCDB-A875-46c1-8345-B72A4567E486}
HKEY_CLASSES_ROOTCLSID{771A1334-6B08-4a6b-AEDC-CF994BA2CEBE}
HKEY_CLASSES_ROOTCLSID{7C559105-9ECF-42b8-B3F7-832E75EDD959}
HKEY_CLASSES_ROOTCLSID{86227D9C-0EFE-4F8A-AA55-30386A3F5686}
HKEY_CLASSES_ROOTCLSID{8CBA1B49-8144-4721-A7B1-64C578C9EED7}
HKEY_CLASSES_ROOTCLSID{A3FDD654-A057-4971-9844-4ED8E67DBBB8}
HKEY_CLASSES_ROOTCLSID{DC341F1B-EC77-47BE-8F58-96E83861CC5A}
HKEY_CLASSES_ROOTCLSID{FAA356E4-D317-42A6-AB41-A3021C6E7D52}
HKEY_CLASSES_ROOTInterface{03B800F9-2536-4441-8CDA-2A3E6D15B4F8}
HKEY_CLASSES_ROOTInterface{0985C112-2562-46F2-8DA6-92648BA4630F}
HKEY_CLASSES_ROOTInterface{0E704BA4-C517-4BE7-A1CD-C3FFDA1E1FFE}
HKEY_CLASSES_ROOTInterface{339D8AFF-0B42-4260-AD82-78CE605A9543}
HKEY_CLASSES_ROOTInterface{7B9A715E-9D87-4C21-BF9E-F914F2FA953F}
HKEY_CLASSES_ROOTInterface{90CE74CC-788A-4A00-B38D-CBCA08CC9E8F}
HKEY_CLASSES_ROOTInterface{A36A5936-CFD9-4B41-86BD-319A1931887F}
HKEY_CLASSES_ROOTInterface{BF06DA8E-2BEB-4816-9BBD-F7625246E245}
HKEY_CLASSES_ROOTInterface{DC065FA6-08F9-4C50-99DC-275D16CFC5BD}
HKEY_CLASSES_ROOTInterface{DFBCC1EB-B149-487E-80C1-CC1562021542}
HKEY_CLASSES_ROOTInterface{EAF2CCEE-21A1-4203-9F36-4929FD104D43}
HKEY_CLASSES_ROOTTypeLib{4EE12B71-AA5E-45EC-8666-2DB3AD3FDF44}
HKEY_CLASSES_ROOTTypeLib{58634367-D62B-4C2C-86BE-5AAC45CDB671}
HKEY_CLASSES_ROOTTypeLib{67907B3C-A6EF-4A01-99AD-3FCD5F526429}
HKEY_CLASSES_ROOTTypeLib{6D3F5DE4-E980-4407-A10F-9AC771ABAAE6}
HKEY_CLASSES_ROOTTypeLib{89A10D64-83BF-41A4-86A3-7AAF1F8F3D1B}
HKEY_CLASSES_ROOTTypeLib{8C752C5E-3C10-4076-AF0A-FFC69FA20D1B}
HKEY_CLASSES_ROOTTypeLib{CC257918-F435-4A33-8231-2B8195990CCA}
HKEY_CLASSES_ROOTTypeLib{D0288A41-9855-4A9B-8316-BABE243648DA}
HKEY_CLASSES_ROOTTypeLib{DB447818-96B4-40DF-8A55-720DA496F514}
HKEY_CLASSES_ROOTTypeLib{E9A5B71C-093B-4F34-AF07-34FCA89BA0DF}
HKEY_CLASSES_ROOTComponent Categories{00021494-0000-0000-C000-000000000046}
HKEY_LOCAL_MACHINESOFTWAREMicrosoftCurrentVersionExplorerBrowser Helper Objects{A3FDD654-A057-4971-9844-4ED8E67DBBB8}
HKEY_LOCAL_MACHINESOFTWAREMicrosoftInternet ExplorerExtensions{10E42047-DEB9-4535-A118-B3F6EC39B807}
HKEY_LOCAL_MACHINESOFTWAREMicrosoftWindowsCurrentVersionModuleUsage%Windir%/Downloaded Program Files/istactivex.dll
HKEY_LOCAL_MACHINESOFTWAREMicrosoftCode Store DatabaseDistribution Units{7C559105-9ECF-42B8-B3F7-832E75EDD959}
HKEY_LOCAL_MACHINESOFTWAREMicrosoftWindowsCurrentVersionInternet SettingsZoneMapDomainscontentmatch.net
HKEY_LOCAL_MACHINESOFTWAREMicrosoftWindowsCurrentVersionUninstallISTbar
HKEY_LOCAL_MACHINESOFTWAREMicrosoftWindowsCurrentVersionUninstallISTsvc
HKEY_LOCAL_MACHINESOFTWAREMicrosoftWindowsCurrentVersionUninstallISTbarISTbar
HKEY_LOCAL_MACHINESOFTWAREMicrosoftWindowsCurrentVersionUninstallSideFind
HKEY_LOCAL_MACHINESOFTWAREMicrosoftWindowsCurrentVersionUninstallYourSiteBar
Unregister DLLs:
cmctl.dll,istactivex.dll,istbar.dll,istbarcm.dll,istbar_dh.dll,sidefind.dll,sfbho.dll,ysb.dll,ysbactivex.dll
Delete files:
istsvc.exe,istdownload.exe,gjefpet.exe,juhpad.exe,sfsetup.exe,sidefind.exe,cmctl.dll,istactivex.dll,istbar.dll,istbarcm.dll,istbar_dh.dll,sidefind.dll,sfbho.dll,ysb.dll,ysbactivex.dll
Delete directories:
C:Program FilesISTsvc
C:Program FilesSideFind
C:Program FilesYourSiteBar
About the author