Quick Defragmenter. How to remove? (Uninstall guide)
Quick Defragmenter is a stealthy virus, which just like Smart Defragmenter or HDD Defragmenter belongs to one dangerous family of rogue anti-spywares that have been actively spread through fake video codecs and flash updates. Being in the same group with those malwares, Quick Defragmenter just like its relatives uses quite aggressive methods to mislead users that they have tons of viruses. It keeps on telling about numerous errors detected and then offers to purchase its useless license (see on the photo, thanks for S!Ri for this one). Make sure you don't pay for Quick Defragmenter, because it's not a reputable system optimizer! After doing that finally you will end up with many problems and no money left.
Quick Defragmenter mostly hacks computers without any permission asked and does that secretly through Trojans viruses and other malware. This quite regular way of installation should surprise everyone who additionally will be attacked by continuous alerts and annoying browser redirections to malicious websites offering to purchase Quick Defragmenter. After being astonished to see the program which has never been downloaded, victims will also get misleading information about numerous problems, such as:
System Error!
Exe file is corrupted and can't be run. Hard drive scan required.
Scan Hard Drive
Safe Mode required
Boot into Windows Safe Mode required
Boot into Windows Safe Mode required to get into defragmentation module. The safe mode is needed for effective problems fixing. The process takes as little as 10 minutes. Once the process has been completed, the safe mode will be automatically turned off.
Windows detected a hard drive problem.
A hard drive error occurred while starting the application.
Windows cannot find 'winword'. Make sure you typed the name correctly, and then try again. To search for a file, click the Start button, and then click Search.
Critical Error!
Damaged hard drive clusters detected. Private data is at risk.
Critical Error
Hard Drive not found. Missing hard drive.
Critical Error
RAM memory usage is critically high. RAM memory failure.
Critical Error
Windows can't find hard disk space. Hard drive error
Critical Error!
Windows was unable to save all the data for the file System32496A8300. The data has been lost. This error may be caused by a failure of your computer hardware.
Critical Error
A critical error has occurred while indexing data stored on hard drive. System restart required
System Restore
The system has been restored after a critical error. Data integrity and hard drive integrity verification required.
Don't take anything what was reported by Quick Defragmenter serious! It tries to create an image that its licensed version is definitely needed on your PC and asks paying the money for it additionally. So do not get tricked and as soon as you notice it on your computer run a reputable anti-spyware to remove Quick Defragmenter. If you have already paid for it, contact your credit card details to dispute the charges. You may also need to disable this malware, so launch safe mode with networking and stop its malicious processes running.
NOTE: Quick Defragmenter may disconnect you from the Internet, so first of all you have to disable proxy server for LAN in Internet Explorer or use another browser, for example Firefox or Opera.
How to disable Proxy server for LAN in Internet Explorer:
1. Open Internet Explorer. Click on the Tools menu and then select Internet Options.
2. In the the Internet Options window click on the Connections tab. Then click on the LAN settings button.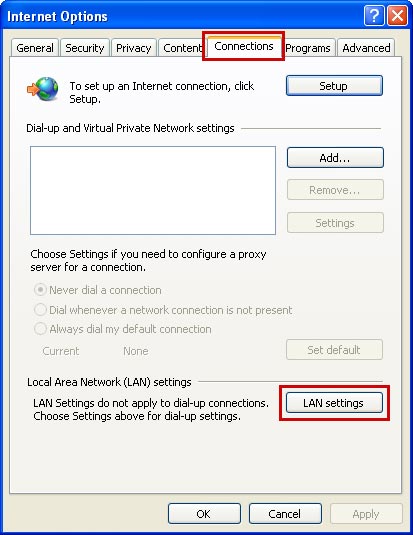 3. Now you will see Local Area Network (LAN) settings window. Uncheck the checkbox labeled Use a proxy server for your LAN under the Proxy Server section and press OK.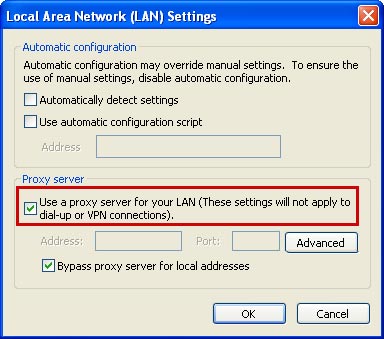 4. Now download renamed Process Explorer (explorer.com) and terminate Quick Defragmenter processes (written below). Do not reboot your computer after using Process Explorer and terminating Quick Defragmenter processes.
Now you should be able to download an automatic Quick Defragmenter removal tool or another anti-spyware application.
The latest parasite names used by FakeHDD:
[newest id="fakehdd"]
Quick Defragmenter manual removal:
Kill processes:
[random characters].exe
winsp2up.exe
Delete registry values:
HKEY_CURRENT_USERSoftwareMicrosoftWindowsCurrentVersionRun "[random characters]"
HKEY_CURRENT_USERSoftwareMicrosoftWindowsCurrentVersionRun "winsp2up.exe"
Unregister DLLs:
winsp2upd.dll
Delete files:
%UserProfile%Start MenuProgramsQuick Defragmenter
%UserProfile%DesktopQuick Defragmenter.lnk
%UserProfile%Start MenuProgramsQuick Defragmenter
%Temp%[random characters]
%Temp%[random characters].bmp
%Temp%[random characters].exe
%Temp%winsp2up.exe
%Temp%winsp2upd.dll
%Temp%dfrg
%Temp%dfrgr
About the author