Secure File Shredder. How to remove? (Uninstall guide)
removal by Jake Doevan
-
- Also known as
Secure FileShredder, SecureFileShredder
| Type:
Malware
Secure File Shredder is more than just a rogue security tool. SecureFileShredder is a fake anti-spyware, but it spreads really fast using web browser vulnerabilities. If there's no real-time security tools on a computer, Secure File Shredder automatically installs itself when user visits malicious website. There are several websites distributing this malware; the same web sources are responsible for infections like SpytwareGuard 2008 and Winiguard.
Once it gets on a computer, Secure FileShredder acts like typical corrupt anti-spyware. It loads plenty if pop-ups trying to scare people into purchasing full version of Secure File Shredder. Why would someone pay for malware? Unfortunately, Secure File Shredder is masked as anti-spyware tool, so people fall the trick and purchase a license in hopes to protect their computer. If you find yourself in a situation like this, remember that SecureFileShredder is a computer parasite and it won't work as anti-spyware even if you pay for the full version.
Secure File Shredder brings tons of pop-ups, but that's not the worst part of this infection. Secure File Shredder disturbs loading other programs, it slows down a computer and it may limit internet connection. Block securefileshredder.com using your HOSTS file.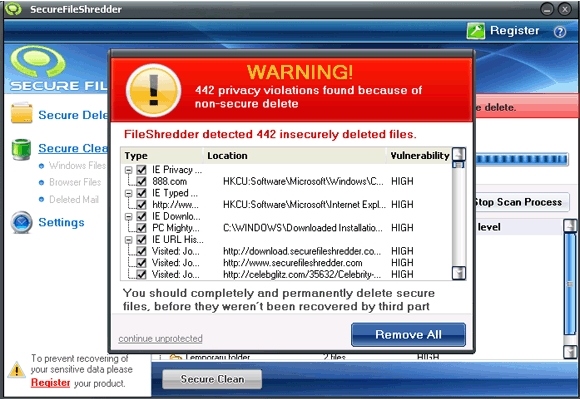 Secure File Shredder manual removal:
Kill processes:
SecureFileShredderInstallerDualEn.exe
SFSSetupDual.exe
Delete registry values:
0D55666A-702F-434A-962F-FFE6816B855E
SDShellExt.SecureDeleteExt.1
SDShellExt.SecureDeleteExt
SDShellExt.ClearRecycleExt.1
SDShellExt.ClearRecycleExt
E7FB27A8-A84C-4EA5-95DF-732092DDC018
C37688A2-0F80-4D22-9C04-3E77B955D95B
1D27F0F6-418C-4645-BB9B-F1D75EB4E7EF
ExtSFS.OutlookExt.1
ExtSFS.OutlookExt
DirectoryshellexContextMenuHandlersSFSShellExtension
FEAED91E-FB2D-4842-8593-CB82B1A4222D
7915AA00-43C5-432d-800D-6F3FD2590F12
645FF040-5081-101B-9F08-00AA002F954EshellexContextMenuHandlersSFSShellExtension
23C11724-9DDC-4D6A-B788-6219B6F7B227
AppIDExtSFS.DLL
*shellexContextMenuHandlersSFSShellExtension
SecureFileShredder
MicrosoftOfficeOutlookAddinsExtSFS.OutlookExt
SOFTWAREMicrosoftWindowsCurrentVersionShell ExtensionsApprovedFEAED91E-FB2D-4842-8593-CB82B1A4222D
SOFTWAREMicrosoftWindowsCurrentVersionShell ExtensionsApprovedD99C619E-00DE-44bc-8870-D3030D4708B4
SOFTWAREMicrosoftInternet ExplorerToolbarD99C619E-00DE-44bc-8870-D3030D4708B4
Delete files:
SecureFileShredderInstallerDualEn.exe
SFSSetupDual.exe
Delete directories:
ProgramFilesSecureFileShredder
TempFileShredderSetup
AllUsersProfileStart MenuProgramsSecureFileShredder
About the author