Remove Win32:BogEnt (Virus Removal Guide) - 2021 update
Win32:BogEnt is a computer virus detection name that is based on behavioral analysis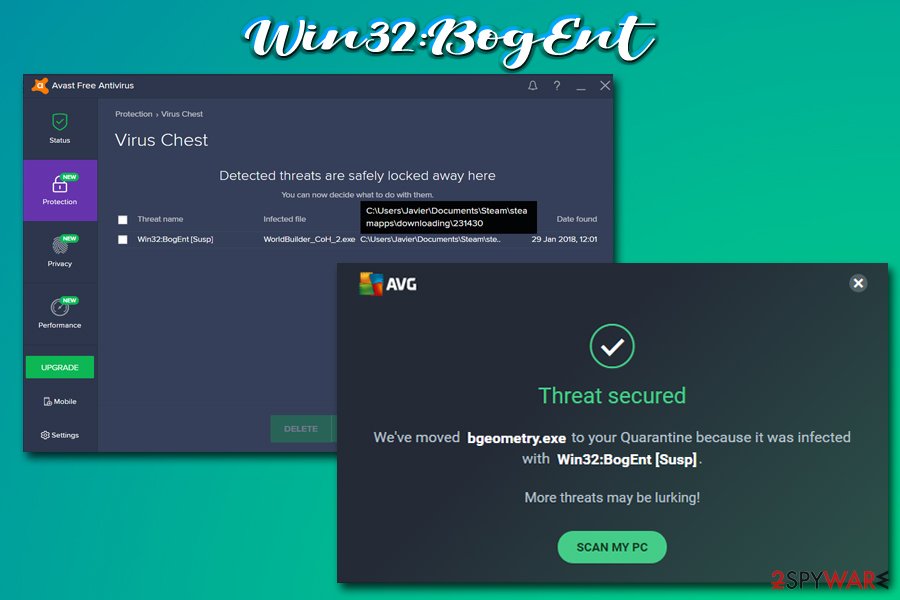 Win32:BogEnt is a heuristic detection that describes unusual behavior of particular files located on the host system. The definition is only used by Avast and AVG anti-malware software and seems to be related to video games from Steam, as well as pre-installed ones. Multiple users complained that they got the pop-up claiming that malicious files were found in relevant folders, which were removed or quarantined as a consequence. However, many users had doubts about it, and not in vain, as, in some cases, Win32:BogEnt detection might indeed be a false-positive.[1]
Nevertheless, users should never ignore WIN32 BogEnt [Susp] or any other detections that are flagged by their AVs. The behavioral analysis looks for particular signs and symptoms of certain files or programs that are dropped on the system. Therefore, dismissing the possibility that Win32:BogEnt can indicate malware infection is not adequate, either.
| | |
| --- | --- |
| Name | Win32:BogEnt |
| Type | Malware |
| Infection means | You can infect your machine with malware in various ways, including downloading pirated or cracked software, not having anti-malware software installed, failing to update your operating system and the installed programs on time, opening malicious file attachments, etc. |
| Affected systems  |  Windows 7, Windows 8/8.1, Windows 10 |
| Is it a false-positive? | Win32:BogEnt is a heuristic detection definition, meaning that certain behavior is analyzed in order to conclude whether the file is malicious. In some cases, a behavioral analysis might not detect files correctly and flag legitimate data as malicious. In this case, if you encountered this detection while playing Steam games, it is likely that the detection is false |
| Further actions | You should scan your computer with another anti-malware software, such as ReimageIntego or SpyHunter 5Combo Cleaner. If the file in question is still detected, it should be removed. However, if nothing gets flagged you should report the issue to Avast/AVG and exclude the file from being scanned in the future (exception list) |
To make sure that your machine is clean, you should scan the detected file with another security software. Once you are sure that the detection is a false-positive, you can add it to your exception list and wait for relevant anti-virus engines to update their definitions. Finally, you should not hesitate to remove Win32:BogEnt if other anti-malware tools are flagging it as malicious
The Win32:BogEnt virus detection can relate to various game titles, including Company of Heroes 2, H1Z1 King of the Kill, Chuzzle Deluxe, Path of Exile, and many others, as well as flagging such files as libcef.dll, libcef.exe, bgeometry.exe, galaxy.dll, LaunchPad.libs, etc.
Therefore, if you see the detection after updating or downloading a game, it is most likely a false positive, as Steam is a secure gaming platform that makes several checks that do not allow malware to be distributed via it. Besides, a game developer confirmed[2] that Avast and AVG flag their game files as malicious due to the way the "hotloading" works – the feature is related to updating the game without needing to restart it.
Nevertheless, simply because Win32:BogEnt is heuristic does not mean that is can never be a real threat. Malware can be downloaded by users without them realizing it. Cybercriminals use the following methods for its distribution:
Exploits[3]
Fake updates
Unprotected RDP connections
Spam emails
Drive-by downloads
Software cracks, etc.
Therefore, if you engage in high-risk activities or disable your security software for some reason, there is a high probability that Win32:BogEnt is indeed a virus. What it can do on your system, however, is very hard to tell, as this particular name can be attributed to various types of malware, including rootkits, Trojans, data stealers, ransomware, and others.
Before you proceed with Win32:BogEnt removal, you should use another anti-malware software and scan the detected file once again – we recommend using ReimageIntego or SpyHunter 5Combo Cleaner, although other reputable tools can be used as well.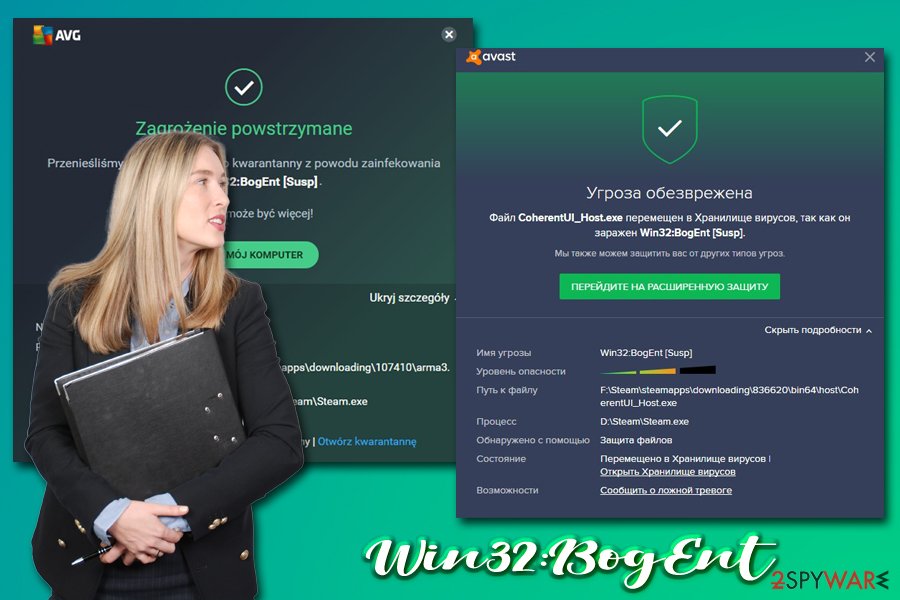 Win32:BogEnt is a heuristic detection name that is also a often a false positive, especially when encountered while playing games on Steam platform
To avoid malware from intruding your computer, make sure you practice safe browsing habits
As mentioned before, malware developers use various distribution methods in order to infect as many users as possible. While some techniques might be more sophisticated than others, all of them work to a certain degree and, in most cases, the end-users are the vector that triggers the infection. Therefore, you should be aware that malware could infect your computer in places you least expect, although certain exposures to online threats are triggered purposely (such as downloading of software cracks despite knowing the risks).
Security experts from zondervirus.nl[4] claim that comprehensive security solutions, along with safe online browsing practices, can make an enormous difference when it comes to computer security and online safety. Thus, ensure you always install the latest security updates on time, equip your machine with anti-malware software, backup your files, never download software cracks/pirated programs, install ad-block and never click on suspicious email attachments or hyperlinks in spam emails. Also, you should make sure that all your accounts are protected by strong passwords that are never reused – best would be employing a password manager.
Ways to deal with Win32:BogEnt detection
If you saw a Win32:BogEnt virus being flagged on your computer, you should never ignore it. Either you will not be able to play your favorite Steam games or malware will be performing malicious activities behind your back – and you definately do not want that. Therefore, take immediate action and do not ignore the issue. Before you remove Win32:BogEnt, however, you need to ensure that it is not a false positive.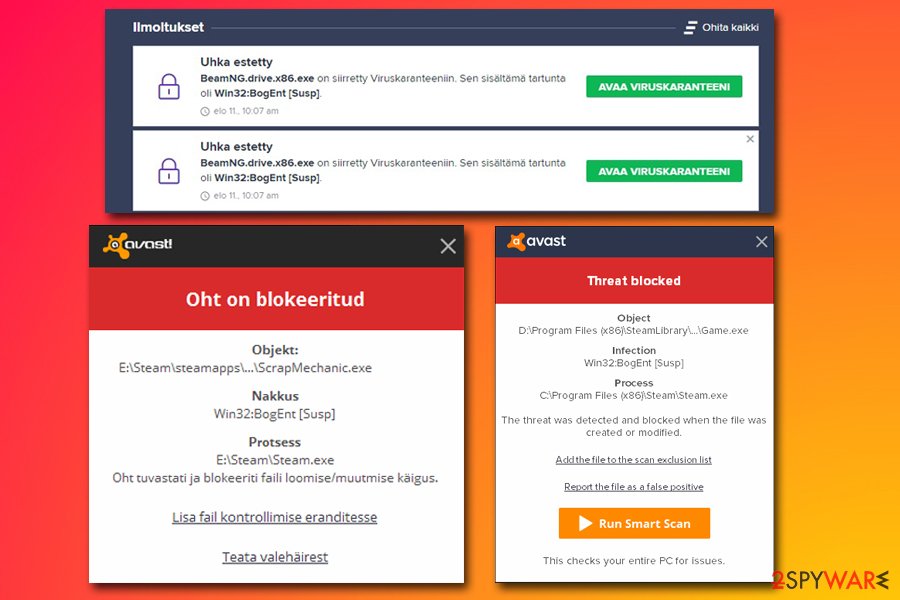 Win32:BogEnt is known to be detected by users who play games on Steam - these case are false positives
For that, you should employ another security application and perform a full system scan – you could use ReimageIntego, SpyHunter 5Combo Cleaner, or another anti-malware software. If it gets flagged as well, proceed with Win32:BogEnt removal as soon as you can, as malware might cause tremendous damage to the PC and your online safety.
If a secondary scan returns no detections, you should exclude the file from being scanned again and enlist it into the exception list. We include the instructions for both security applications:
Make an exclusion Avast:
Go to Menu and select Settings
Pick General tab on the left and click on Exceptions
Click on Add Exception button
You need to type in the file path of the file or select browse to specify the file in question
Find the file and click OK
Make an exclusion on AVG:
Click on the menu at the top-right and pick Settings
Next, go to General > Exceptions
Select Add exception
Type in the file path or find it via the Browse option and click OK
Alternative Software
Different software has a different purpose. If you didn't succeed in fixing corrupted files with Reimage, try running SpyHunter 5.
Alternative Software
Different software has a different purpose. If you didn't succeed in fixing corrupted files with Intego, try running Combo Cleaner.
Stream videos without limitations, no matter where you are
There are multiple parties that could find out almost anything about you by checking your online activity. While this is highly unlikely, advertisers and tech companies are constantly tracking you online. The first step to privacy should be a secure browser that focuses on tracker reduction to a minimum.
Even if you employ a secure browser, you will not be able to access websites that are restricted due to local government laws or other reasons. In other words, you may not be able to stream Disney+ or US-based Netflix in some countries. To bypass these restrictions, you can employ a powerful Private Internet Access VPN, which provides dedicated servers for torrenting and streaming, not slowing you down in the process.
Data backups are important – recover your lost files
Ransomware is one of the biggest threats to personal data. Once it is executed on a machine, it launches a sophisticated encryption algorithm that locks all your files, although it does not destroy them. The most common misconception is that anti-malware software can return files to their previous states. This is not true, however, and data remains locked after the malicious payload is deleted.
While regular data backups are the only secure method to recover your files after a ransomware attack, tools such as Data Recovery Pro can also be effective and restore at least some of your lost data.
About the author
References
Removal guides in other languages