Windows 8 Security System. How to remove? (Uninstall guide)
Windows 8 Security System is a fake antivirus, which was noticed by our security experts in the late end of August, 2012. It is a very close variant to Windows Ultra Antivirus. Yet, it seems to be much more prepared to prevent its removal and rip its victims off. For that, Windows 8 Security System displays fake alerts and misleading messages that claim that your computer is infected with malware and now you have to purchase licensed its version. Of course, just like any other rogue, Windows 8 Security System is all about deceiving PC users and all its reported viruses or licensed version, which is offered to remove them, are fake. Instead of falling for this threat, you MUST remove Windows 8 Security System from your computer.
HOW CAN I GET INFECTED WITH Windows 8 Security System?
Windows 8 Security System enters computers via infected websites that can be hacked up if they are not looked after properly. The latest Trojan.Maljava!Gen24 can also be involved into the distribution of this virus, so make sure that you use updated anti-malware versions and have disabled JAVA in your browser. This scam tool may also be propagated through fraudulent social engineering and other ways that leave no chances for the victim to notice the intrusion. Right after this infiltration, Windows 8 Security System is set to start as soon as victim reboots the PC. Typically, that means adding some new entries into the Registry and creating some harmless files in the system that will additionally be reported as viruses. As a result, this rogue anti-spyware starts reporting such or similar threats:
Threat detected!
Security Alert! Your computer was found to be infected with privacy-threatening software. Private data may get stolen and system damage may be severe.Recover your PC from the infection right now, perform a security scan.
Attention: DANGER!
ALERT! System scan for spyware, adware, trojans and viruses is complete. Win 8 Security System detected [xx] critical system objects. These security breaches may be exploited and lead to the following:
Your system becomes a target for span and bulky, intruding ads
Browser crashes frequently and web access speed decreases
Your personalfiles, photos, documents and passwords get stolen
Your computer is used for criminal activity behind your back
Bank details and credit cart information gets disclosed
Click REGISTER to register your copy of Win 8 Security System and perform threat removal on your system. The list of infections and vulnerabilities detected will become available after registration.
Ignore these or any other alert displayed by Windows 8 Security System because they report about nonexistent infections. Note that Windows 8 Security System may also find legitimate Windows files on your computer and report them as viruses. After making its victim concerned, it finishes its campaign with offering to install its licensed copy. Instead of doing that, we recommend to remove Windows 8 Security System without any delay.
HOW TO REMOVE Windows 8 Security System?
Firstly, you must run a full system scan with legitimate UPDATED anti-spyware. We recommend using Plumbytes Anti-MalwareWebroot SecureAnywhere AntiVirus and Reimage. However, you must realize that Windows 8 Security System removal may be a hard task because it has been found to prevent legitimate programs on its target computer. If you have also found yourself disabled by Windows 8 Security System, enter one of these codes to make your virus think you have purchased its license: 8F42D6E3-FD18 or Y86REW-8F42D6E3-FD18. After disabling Windows 8 Security System, run a full system scan with Reimage to eliminate all infected files from your computer.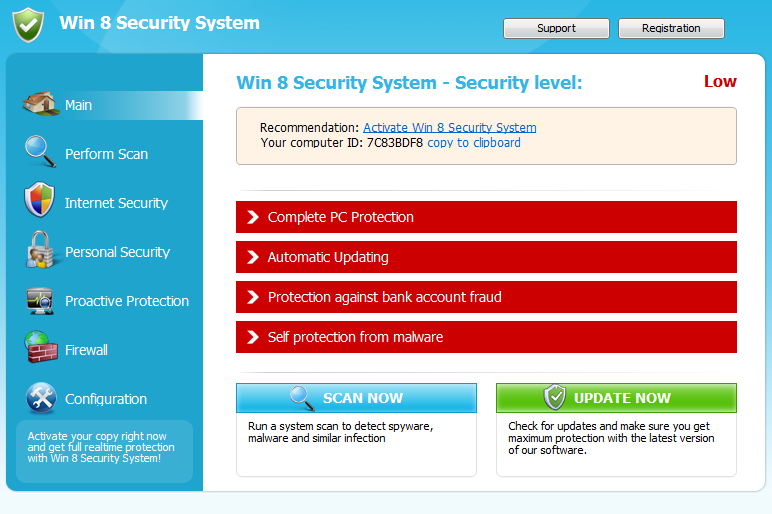 Windows 8 Security System manual removal:
Kill processes:
[random].exe
Delete registry values:
HKEY_LOCAL_MACHINESYSTEMControlSet001EnumRootLEGACY_[random2]
HKEY_LOCAL_MACHINESYSTEMControlSet001EnumRootLEGACY_[random2]000
HKEY_LOCAL_MACHINESYSTEMControlSet001EnumRootLEGACY_[random2]000Control
HKEY_LOCAL_MACHINESYSTEMControlSet001EnumRootLEGACY_1FE50
HKEY_LOCAL_MACHINESYSTEMControlSet001EnumRootLEGACY_1FE50000
HKEY_LOCAL_MACHINESYSTEMControlSet001EnumRootLEGACY_1FE50000Control
HKEY_LOCAL_MACHINESYSTEMControlSet001Services112da10e6b8dcd07
HKEY_LOCAL_MACHINESYSTEMCurrentControlSetEnumRootLEGACY_[random2]
HKEY_LOCAL_MACHINESYSTEMCurrentControlSetEnumRootLEGACY_[random2]000
HKEY_LOCAL_MACHINESYSTEMCurrentControlSetEnumRootLEGACY_[random2]000Control
HKEY_LOCAL_MACHINESYSTEMCurrentControlSetEnumRootLEGACY_1FE50
HKEY_LOCAL_MACHINESYSTEMCurrentControlSetEnumRootLEGACY_1FE50000
HKEY_LOCAL_MACHINESYSTEMCurrentControlSetEnumRootLEGACY_1FE50000Control
HKEY_LOCAL_MACHINESYSTEMCurrentControlSetServices[random2]
HKEY_CURRENT_USERSoftwareWinUltraAntivirus
random2 - name of the rootkit file name.
Delete files:
%LocalAppData%[random].exe
%StartMenu%ProgramsWin 8 Security System
%StartMenu%ProgramsWin 8 Security SystemBuy Win 8 Security System.lnk
%StartMenu%ProgramsWin 8 Security SystemLaunch Win 8 Security System.lnk
%System%drivers[random].sys
%UserProfile%DesktopBuy Win 8 Security System.lnk
About the author
Removal guides in other languages