Windows Pro Defence Kit. How to remove? (Uninstall guide)
Windows Pro Defence Kit is a malicious application, which was created for making the money. It is categorized as rogue anti-spyware because all it does is infects computers and then starts displaying fake alerts. Of course, it always 'detects' something and then offers purchasing its useless license and eliminating detected cyber infections. If you thought that Windows Pro Defence Kit is legitimate, you should remember that neither these viruses nor its license is real. You must ignore all alerts that belong to rogue anti-virus and also scan the system with reliable anti-spyware if you want to get rid of its malicious files. Otherwise, you may find more viruses installed on your computer, notice continuous redirects to unknown websites and receive more alerts that are misleading. System slow downs may also be caused by this rogue.
How can Windows Pro Defence Kit infiltrate my computer?
Windows Pro Defence Kit is spread by trojans that typically hide inside illegal websites, misleading pop-up notifications and spam. In most of the cases, these notifications report that computer is infected and that you should check it with a free tool by clicking on the ad. Once you click on such ad, you download virus on your computer. In order to avoid other Windows Pro Defence Kit's infiltration methods, you should pay more attention to your PC's security. We highly recommend relying only on reliable anti-viruses and anti-spywares.
As soon as Windows Pro Defence Kit hijacks the system, it is also set to start its work everytime victim reboots computer. Once these preparations are made, malware starts showing such misleading alerts and notifications:
Error
Trojan activity detected. System integrity at risk. Full system scan is highly recommended.
Warning! Identity theft attempt detected
Hidden connection IP: xx.xxx.xxx.xxx
Target: Microsoft Corporation keys
Your IP: XXXXXXXXXXXX
Firewall has blocked a program from accessing the Internet
c:\windows\system32\taskmanger.exe
is suspected to have infected your PC.
This type of virus intercepts entered data and transmits them
to a remote server.
Error
System data security is at risk!
To prevent potential PC errors, run a full system scan.
If you have already been tricked by Windows Pro Defence Kit and purchased its license, you should waste no time and contact your bank in order to dispute the payment. Otherwise, hackers may try to steal your credit card details and steal more money from you. In addition, we also recommend scanning the system with reliable anti-spyware. This will help you to remove Windows Pro Defence Kit from your computer.
How to remove Windows Pro Defence Kit?
Windows Pro Defence Kit is a misleading security application, which only mimics activities that are performed by anti-spywares. If you started receiving its ads, you should waste no time and scan it with one of anti-spywares. Our recommended products are Reimage, Plumbytes Anti-MalwareWebroot SecureAnywhere AntiVirus, Malwarebytes Anti Malware.
If you can't launch any of them, use these instructions:
1. Reboot your computer to Safe Mode with Networking. Just reboot your PC and, as soon as it starts booting up, start pressing F8 repeatedly.
2. Loggin as the same user as you were in normal Windows mode.
3. Now click on IE or other browser and select 'Run As' or 'Run As administrator', enter your Administrator account password (if needed).
4. Enter this link to your address bar: https://www.2-spyware.com/download/hunter.exe and download a program on your desktop. Launch it to kill the malicious processes and remove its files.
The latest parasite names used by FakeVimes:
[newest id="fakevimes"]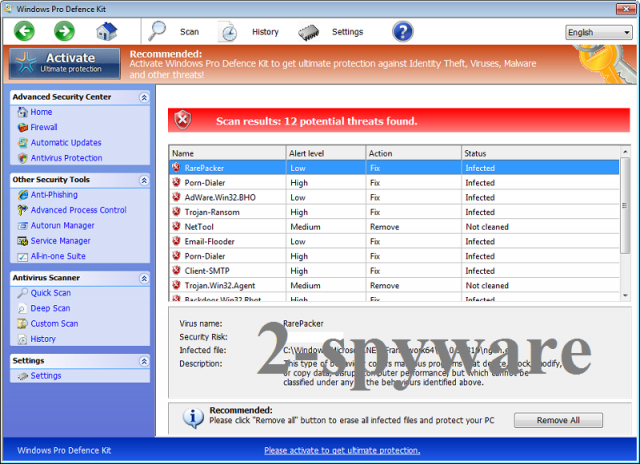 Windows Pro Defence Kit manual removal:
Kill processes:
%AppData%svc-[random characters].exe
Delete registry values:
HKEY_LOCAL_MACHINESOFTWAREMicrosoftWindowsCurrentVersionpoliciessystem "ConsentPromptBehaviorUser" = 0
HKEY_LOCAL_MACHINESOFTWAREMicrosoftWindowsCurrentVersionpoliciessystem "EnableLUA" = 0
HKEY_LOCAL_MACHINESOFTWAREMicrosoftWindowsCurrentVersionpoliciessystem "EnableVirtualization" = 0
HKEY_CURRENT_USERSoftwareMicrosoftWindowsCurrentVersionRun "MS-SEC" = %AppData%svc-
.exe

HKEY_CURRENT_USERSoftwareMicrosoftWindowsCurrentVersionRun "ZSFT" = %AppData%svc-.exe

HKEY_CURRENT_USERSoftwareMicrosoftWindowsCurrentVersionRun "S_SC" = %AppData%svc-.exe

HKEY_CURRENT_USERSoftwareMicrosoftWindowsCurrentVersionRun "SD-986-001" = %AppData%svc-.exe

HKEY_LOCAL_MACHINEsoftwaremicrosoftWindows NTCurrentVersionImage File Execution OptionsMpCmdRun.exe

HKEY_LOCAL_MACHINEsoftwaremicrosoftWindows NTCurrentVersionImage File Execution OptionsMpUXSrv.exe

HKEY_LOCAL_MACHINEsoftwaremicrosoftWindows NTCurrentVersionImage File Execution OptionsMSASCui.exe

HKEY_LOCAL_MACHINEsoftwaremicrosoftWindows NTCurrentVersionImage File Execution Optionsmsconfig.exe

HKEY_LOCAL_MACHINEsoftwaremicrosoftWindows NTCurrentVersionImage File Execution Optionsmsmpeng.exe

HKEY_LOCAL_MACHINEsoftwaremicrosoftWindows NTCurrentVersionImage File Execution Optionsmsseces.exe

HKEY_LOCAL_MACHINESoftwaremicrosoftWindows NTCurrentVersionImage File Execution Optionsk9filter.exe

HKEY_LOCAL_MACHINESystemCurrentControlSetServicesbckd "ImagePath" = 22.sys

HKEY_CURRENT_USERSoftwareMicrosoftWindowsCurrentVersionPoliciesAssociations "LowRiskFileTypes" = ".zip;.rar;.nfo;.txt;.exe;.bat;.com;.cmd;.reg;.msi;.htm;.html;.gif;.bmp;.jpg;.avi;.mpg;.mpeg;.mov;.mp3;.m3u;.wav;"

HKEY_CURRENT_USERSoftwareMicrosoftWindowsCurrentVersionPoliciesAttachments "SaveZoneInformation" = 1

HKEY_CURRENT_USERSoftwareMicrosoftWindows NTCurrentVersionWinlogon "Shell" = "%AppData%svc-.exe"

HKEY_LOCAL_MACHINESOFTWAREMicrosoftWindowsCurrentVersionpoliciessystem "ConsentPromptBehaviorAdmin" = 0



Delete files:


%UserProfile%DesktopWindows Pro Defence Kit.lnk

%AllUsersProfile%Start MenuProgramsWindows Pro Defence Kit.lnk

%AppData%svc-[random characters].exe

%AppData%data.sec


About the author
Removal guides in other languages