What is hkcmd.exe? Should I remove it?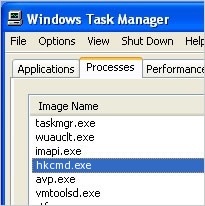 hkcmd.exe is a legitimate system process, which is related to the Hotkey Command Module for Intel Graphics Contollers. Classically, it is located in the folder "C:\WINNT\System32\" on Windows NT/2000 and in the "C:\WINDOWS\System32\" folder on Windows XP. It helps for those PC users who don't want to spend their time on moving the mouse and like to use a keyboard for controlling their computers. So, it's not an essential Windows process and can be safely terminated if you want. However, after doing that you won't be capable to use the hotkeys for the Intel Hotkey Command Module.
DANGER!
Virus creators also use the names of legitimate files in order to hide their viruses on victim's computer. The hkcmd.exe file has been found to be connected with malware Pahatia. If you do not have an Intel video card installed on your computer, the presence of hkcmd.exe may indicate that you have been infected. Pay attention to the file's location and run a full system scan with anti-malware to make sure that your PC is not infected.
verdict - status of the file:
diagnosis required
Advice:
If your computer seems sluggish, or you are suffering from unwanted advertisements and redirects to unknown websites, we highly recommend you to scan it with reputable anti-spyware program. Do some FREE scan tests and check the system for unwanted applications that might be responsible for these problems.
About the author
Removal guides in other languages