What is hkcmd.exe? Should I remove it?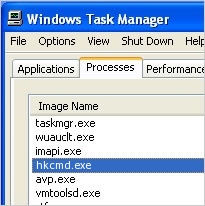 Description of Hkcmd.exe features
Hkcmd.exe is a legitimate Windows system process which is typically located in the C:\Windows\System32\hkcmd.exe directory. The process is responsible for executing quick keyboard commands and accessing system's graphics settings. More specifically, it is related to the Hotkey Command Module of Intel's Graphics Controllers. Hkcmd.exe is not an essential part of the Windows system, so it can successfully operate without this process running in the background of the system.
Nevertheless, when Hkcmd.exe is active, it is programmed to launch at computer startup. As we've already mentioned, the process executable files can be located in the "C:\WINDOWS\System32\". If the process appears somewhere other than this folder, it can be a serious reason for concern.
It is not uncommon for different malware developers to use names of the legitimate system processes or files to conceal their malicious creations and allow them to run on the infected system undetected for as long as possible.
This particular executable is believed to be connected with a malware called Pahatia. If you do not have an Intel video card installed on your computer, the presence of hkcmd.exe may indicate that you have been infected. Pay attention to the file's location and run a full system scan with anti-malware such as Reimage or Plumbytes Anti-MalwareNorton Internet Security to make sure that your PC is not infected.
The origin of file's emergence on your PC
Typically, malicious programmers will disguise the malicious Hkcmd.exe file as some supposedly useful system application, browser helper object or other program and distributed it on random software sharing sites, peer-to-peer networks or infect links online.
However, some malware may also corrupt the legitimate system files by replacing them with the malicious ones. This secret activity may be disclosed by the notifications informing that Hkcmd.exe file was not found, stopped working or crashed
Hkcmd.exe removal
In case you come across the file in the predetermined location, there is nothing you should worry about. You will only have to remove Hkcmd.exe from your computer if it has appeared on it as a result of a malware infection. Luckily, running a full system scan with antivirus software should sort the problem out.
Nevertheless, if this process is still causing you problems though it is not malicious, you can disable it by going to your Control Panel → Intel Extreme Graphics → Hot Keys. When on the Hot Keys folder, turn this option off.
verdict - status of the file:
diagnosis required
Advice:
If your computer seems sluggish, or you are suffering from unwanted advertisements and redirects to unknown websites, we highly recommend you to scan it with reputable anti-spyware program. Do some FREE scan tests and check the system for unwanted applications that might be responsible for these problems.
About the author
Removal guides in other languages