Facebook Child Porn virus. How to remove? (Uninstall guide)
How can Facebook Child Porn virus affect me?
The most popular way used for spreading Facebook Child Porn virus relies on fake messages spread via this social network or the email. Almost each of them has an eye-catching title offering people to watch a "secret" video or a photo. Of course, more than 50 percent of people are tricked by such messages and that is the main reason scammers keep creating them and spread them on Facebook. There is a huge possibility that you will find a link after opening 'watch this if you're curious' or similar fake message. Clicking it is the biggest mistake because that is how this virus infiltrates the system and hijacks your Facebook, Twitter or another social network. After that Facebook Child Porn virus starts showing malicious ads and videos on your timeline. By doing so, it seeks to increase its distribution rate and infect as many users as possible.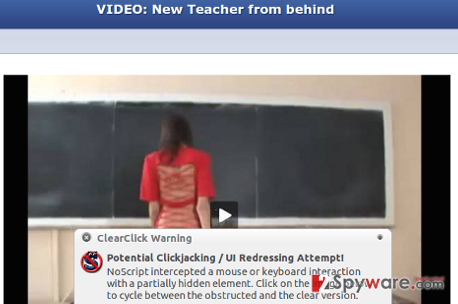 What is caused by Facebook Child Porn malware?
Facebook Child Porn virus is a dangerous cyber infection, so there are lots of malicious havoc that it can create on your computer. It infects computers with a help of tricky messages that have been circulating on Facebook for almost three years. According to the latest news, this malicious video has already been shared tens of thousands of times and has received more than 15,000 likes. The virus, which is related to this video, is the especially dangerous infection. It may try to infect computers and then initiate various malicious tasks on them. That's why you should stay away from this video that has mostly been spread via fake message. It looks like it was sent from a friend, but in reality, it has nothing to do with the people that you know. However, it's just a trick, which is used by hackers to trick PC users.
Once you open a message and click on a malicious link, your Facebook's wall shares the same video of child pornography with all of your Facebook friends. Sometimes, it includes misleading phrases, such as 'watch this if you are curious', 'new teacher from behind' or a similar one that are supposed to make people curious about them and trick them into clicking them. To sum up, Facebook Child Porn virus is a threat that should be avoided. It can also be called a member of Facebook virus group, which was noticed some time ago. It has been found that these threats are very aggressive because they act behind people's back and cause various unwanted activities on the system. You can notice misleading ads on your computer's desktop, slow downs and other problems. However, the most important thing is that such threats may try to steal your personal information. If you have just received unexpected notification on Facebook, and it looks suspicious, you should firstly contact its sender and ask about his/hers message before opening. Also, scan your computer with the reputable anti-spyware to make sure that it is safe and free of viruses.
Facebook Child Porn virus removal:
If you want to remove Facebook Child Porn virus from your computer, you need to remove its posts from your Facebook timeline. You should not find problems when doing that. You just need to find all of these messages, click on the tick that is shown on the right side of the picture and select "Delete from timeline" or "Hide from Timeline". You should remove all post related to child pornography from your Facebook's wall. Once you do that, you should scan your computer with an updated anti-spyware and make sure that your PC system is clean. We recommend using Reimage or Malwarebytes Anti Malware. Don't forget to warn each of your friends who were tricked by a pornographic message or a video on your Facebook timeline. Otherwise, he or she can also be affected by Facebook Child Porn virus. Finally, let people around you know about this virus to stop its distribution.
About the author
Removal guides in other languages