What is avkservice.exe? Should I remove it?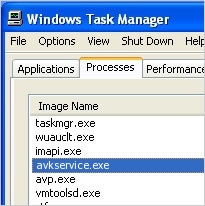 avkservice.exe is a legitimate process, which can also be called 'AVKService Module'. It belongs to several legitimate anti-malware programs that all belong to a company known as G DATA Software AG. If you have this program installed on your computer for keeping it safe, you shouldn't terminate avkservice.exe. However, it's not a crucial component of the system, so it can be terminated if you believe that it has been causing problems on it. Typically, this file can be found in C:\Program Files subfolder. For terminating it, you should go to Control Panel -> Add/Remove programs -> G DATA AntiVirenKit or G DATA InternetSecurity.
DANGER!
There are hundreds of malicious programs that have been created using identical files to legitimate programs' filenames. This is done for trying to prevent removal of these programs. If you noticed that AVKService.exe is slowing your computer or causing other issues on it, you should examine this file with a help of RegCure Pro.
verdict - status of the file:
diagnosis required
Advice:
If your computer seems sluggish, or you are suffering from unwanted advertisements and redirects to unknown websites, we highly recommend you to scan it with reputable anti-spyware program. Do some FREE scan tests and check the system for unwanted applications that might be responsible for these problems.
About the author