What is cc.exe? Should I remove it?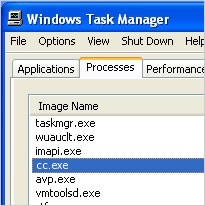 cc.exe is a malicious executable file, which belongs to Control Center. The primary purpose of this file is to launch this parasite or some of its components. Once executed, Control Center starts generating various pop-up notifications that typically warn people about different kinds of viruses. Of course, these viruses are invented and used for the only thing – scaring people into believing that their machines are infected. In addition, this program offers to buy its licensed version and remove detected "viruses". Before you do that, scan your PC with reliable security software and check what viruses are inside your computer. We can guarantee that Control Center will be detected as malicious program.
The cc.exe file is installed as soon as Control Center enters computer. This file usually works in system's background and performs its harmful actions. It remains active as long as PC is active, so the only way to get rid of it is to remove this file. In order to avoid issues related to the removal of this file, you should consider using RegCure Pro.
Finally, you should take into account that cc.exe may also be a fully legitimate process that belongs to legitimate program. No matter that such cases are rare, you should double check this file with the program that is given above.
verdict - status of the file:
dangerous file
Advice:
If your computer seems sluggish, or you are suffering from unwanted advertisements and redirects to unknown websites, we highly recommend you to scan it with reputable anti-spyware program. Do some FREE scan tests and check the system for unwanted applications that might be responsible for these problems.
About the author