What is rstrui.exe? Should I remove it?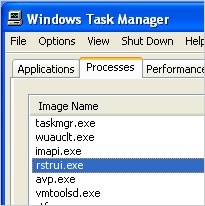 rstrui.exe is a legitimate Windows file, which is located in C:\Windows\System32 subfolder. This process is responsible for System Restore and is required if you want it to work properly. However, there are many people on the Internet who report about rstrui.exe error. They claim that they see such alert when they try to create a manual restore point in System Restore:
Rstrui has caused an error in RSTRUI.EXE.
Rstrui will now close.

If you continue to experience problems, try restarting your computer.
According to Microsoft, you can overcome this problem by using these steps:
Make sure that your system date is set correctly by using the Date/Time tool in the Control Panel.

Click Start, point to Settings, and then click System.

Click the Performance tab.

Click File System.

Click the Troubleshooting tab.

Select the Disable System Restore check box.

Click OK, click Close, and then restart your computer when prompted.

After your computer restarts, follow steps 2 through 6 and clear the Disable System Restore check box. Restart your computer when prompted.
DANGER!
Malware creators tend to use the same file names when naming their malicious processes so hiding their own viruses inside the system. If you found rstrui.exe file in other folder, not C:\Windows\System32, your PC may be infected with virus. In this case, scan a PC with a reputable anti-spyware without any delay.
verdict - status of the file:
diagnosis required
Advice:
If your computer seems sluggish, or you are suffering from unwanted advertisements and redirects to unknown websites, we highly recommend you to scan it with reputable anti-spyware program. Do some FREE scan tests and check the system for unwanted applications that might be responsible for these problems.
About the author
Removal guides in other languages