What is smss.exe? Should I remove it?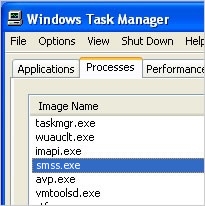 Smss.exe is the session manager subsystem, which can be seen running in the Windows Task Manager on every computer. It's a legitimate file, a part of Microsoft Windows Operating System, which is responsible for starting user's session. It begins running during the startup process and additionally works for launching the winlogon.exe and csrss.exe processes, setting system variables and other activities. Smss.exe can stop the system from responding if winlogon.exe and csrss.exe processes don't end up as expected. We do not recommend stopping this process if it's located at c:\windows\System32\smss.exe because it's required for normal PC's functionality.
DANGER!
Original File smss.exe is located at c:\windows\System32\smss.exe. However, if you find it at other location, there is a huge chance that you have a deal with virus. Malicious smss.exe process can work as an executable file for launching parasites, loading main components of malicious programs and running a destructive payload. It may be a significant part of a dangerous parasites, such Employee Watcher, DreamAd, Wowcraft.b, YahLog, Sober.x, Gammiy, MDSA Sentinel X, KillSec and other. These threats can use smss.exe for different purposes, as the file's functionality depends on a particular parasite it belongs to. You are highly advised to scan the system, delete executable smss.exe and terminate all the processes it started.
verdict - status of the file:
diagnosis required
Advice:
If your computer seems sluggish, or you are suffering from unwanted advertisements and redirects to unknown websites, we highly recommend you to scan it with reputable anti-spyware program. Do some FREE scan tests and check the system for unwanted applications that might be responsible for these problems.
About the author
Removal guides in other languages