Antivirus Pro 2010. How to remove? (Uninstall guide)
Antivirus Pro 2010 is a misleading security application pushed through Braviax malware (Trojan.Virantix.C Trojan virus). This program is classified as misleading application because it reports false scan results and displays fake security alerts to make you think your computer is infected. AntivirusPro 2010 from the same family as PC Antispyware 2010, Home Antivirus 2010 and PC Security 2009. Once installed, the misleading application will ask you to pay for a full version of the program to remove non-existing system security threats. Do not buy this program. Uninstall Antivirus Pro 2010 from your computer as soon possible.
As we have already mentioned, AntivirusPro2010 is promoted through the use of Braviax infection. This Trojan virus displays fake security alerts in your Windows task bar that promotes the misleading application. Usually it states that your computer is unprotected and that you should activate your antivirus software. The Trojan may also display warnings about various malware infections. While running, AntivirusPro_2010 will impersonate Windows Security Center and state that anti-virus software is outdated or disabled. Do not trust it, it's a scam.
To make things even worse, Antivirus Pro 2010 will hijack web browsers and redirect you to entirely different websites full of advertisements. What is more, it will block certain security websites and antivirus programs to protect itself from being deleted. If you find that your computer infected with this parasite, please use the removal guide below to remove Antivirus Pro 2010 from the system manually for free. Note that there can be additional malware installed on your computer not only Braviax and Antivirus Pro 2010, that's why we strongly recommend you to scan your computer with reliable anti-malware application like STOPzilla.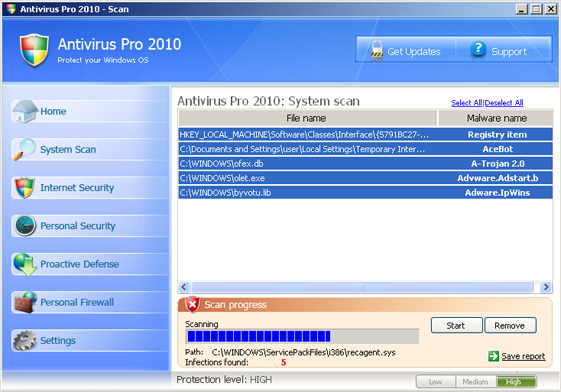 Antivirus Pro 2010 manual removal:
Kill processes:
AntivirusPro_2010.exe
yxine.exe
Uninstall.exe
mifiryvele.exe
Delete registry values:
HKEY_CURRENT_USERSoftwareMicrosoftInternet ExplorerLinksBarItemCache
HKEY_CURRENT_USERSoftwareMicrosoftInternet ExplorerLowRegistryExtensions
HKEY_CURRENT_USERSoftwareMicrosoftInternet ExplorerRecovery
HKEY_CURRENT_USERSoftwareMicrosoftInternet ExplorerSQMPIDs
HKEY_CURRENT_USERSoftwareMicrosoftInternet ExplorerSearchScopes
HKEY_CURRENT_USERSoftwareMicrosoftWindowsCurrentVersionExtSettings{DBC80044-A445-435B-BC74-9C25C1C588A9}
HKEY_CURRENT_USERSoftwareMicrosoftWindowsCurrentVersionExtSettings{E7E6F031-17CE-4C07-BC86-EABFE594F69C}
HKEY_LOCAL_MACHINESOFTWAREAntivirusPro_2010
HKEY_LOCAL_MACHINESOFTWAREMicrosoftESENTProcess[ORIGINAL FILE NAME]
HKEY_LOCAL_MACHINESOFTWAREMicrosoftWindowsCurrentVersionUninstallAntivirusPro_2010
Unregister DLLs:
AVEngn.dll
htmlayout.dll
pthreadVC2.dll
msvcm80.dll
msvcp80.dll
msvcr80.dll
Delete files:
AntivirusPro_2010.lnk
bojag.dl
aqepe.dat
nyxuj.com
Uninstall.lnk
ebapepyno.db
emuziwe.pif
ugozuf._sy
uxitavo.dl
carugy.com
yquxihet.exe
ojupegos.pif
qanof.bin
yrihoka.lib
zecorykyp.lib
AntivirusPro_2010.cfg
AntivirusPro_2010.exe
AVEngn.dll
daily.cvd
htmlayout.dll
Microsoft.VC80.CRT.manifest
msvcm80.dll
msvcp80.dll
msvcr80.dll
pthreadVC2.dll
Uninstall.exe
wscui.cpl
medoqokeqo.exe
ycevykazu.vbs
yhabozix.vbs
_scui.cpl
azasal.bin
dinubem.dl
exifoton.dll
mifiryvele.exe
ralun.sys
Delete directories:
c:Program FilesAntivirusPro_2010
About the author