My Security Shield. How to remove? (Uninstall guide)
My Security Shield is a rogue anti-spyware program from the same family as Security Master AV and My Security Engine. Just like its predecessors, My Security Shield is promoted through the use of fake online scanners and other bogus websites or malware that displays fake security alerts on your computer. The scareware states that your PC is infected with spyware, adware and other viruses and that you should download and install My Security Shield in order to remove the infections. In reality, though, this is nothing more but a scam. And if you decide to install My Security Shield then it will make your computer almost unusable.
Once installed, the rogue program will install a variety of files on your computer that act as fake malware so that the program will find them while scanning. These files are: cid.drv, CLSV.tmp, DBOLE.exe, delfile.sys, fan.dll, grid.sys, kernel32.exe, kernel32.sys, PE.dll, PE.tmp, runddlkey.drv, SICKBOY.drv, std.dll, tempdoc.tmp, tjd.sys and other. All these files are located in %UserProfile%Recent folder.
While My Security Shield is running, it will automatically start scanning your computer and then will state that there are many infected files that should be removed, but this can be done only with a full version of the program. You may also find that your computer starts to become slower. Furthermore, My Security Shield will constantly display fake security alerts stating that your computer is infected and that you should purchase the program immediately to protect your computer. The text of some of these alerts are:
Warning! Virus detected
Threat Detected: Trojan-PSW.VBS.Half
Description: This is a VBScript-virus. It steals user's passwords.
Memory access problem
WindowsErrorForm has encountered a problem at address 0x1FC408.
We are sorry for the inconvenience.
If you see this error again, operational information can be irrevocably lost.
As you can see, My Security Shield uses misleading methods to scare you into purhcasing the program. The removal guide below will walk you through removing the My Security Shield and any associated malware that may have been installed with it. You can remove this virus manually, but we strongly recommend you to use an automatic removal tool. Finally, if you have already purchased the bogus program then contact your credit card company and dispute the charges.
Alternative Software
Different security software includes different virus database. If you didn't succeed in finding malware with Reimage, try running alternative scan with SpyHunter.
Alternative Software
Different security software includes different virus database. If you didn't succeed in finding malware with Reimage, try running alternative scan with Combo Cleaner.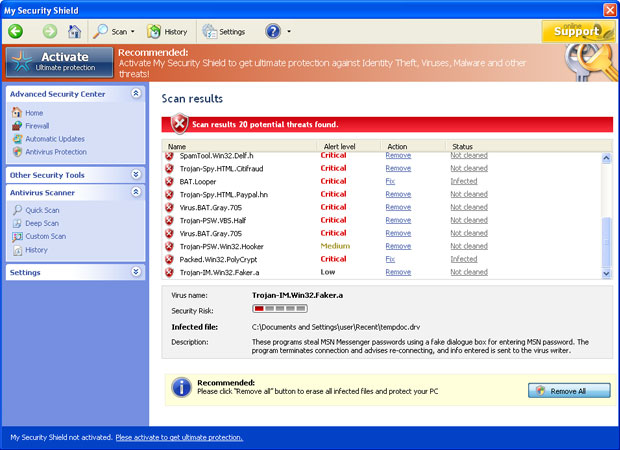 About the author

August 20th, 2010 at 7:08 pm

thanks, the freaking program is going me crazy!


August 25th, 2010 at 10:08 am

Thanks,,,i downloaded spy doctor,,,but I cant start him up?? What should I do?


August 27th, 2010 at 4:08 am

Thx m8. it got rid of it


September 7th, 2010 at 5:09 pm

Okay, so I accidentlly downloaded this. And now, it has taken over my computer. I have tried to remove it but it is still coming up. What do I do now?


September 15th, 2010 at 9:09 am

I fell for the scam but I not can't find it in my computer. How do I know if it's still in there and would running the automatic removal do any harm anyway?


October 8th, 2010 at 1:10 am

mozcrt19.dll and sqlite3.dll seem are needed from Mozilla Firefox, Avira Antivir and some Nokia applications. In case you unregister these dlls you are likely to reinstall depending applications. Moreover Malwarebytes does not detect both dlls as security problem.


November 26th, 2010 at 10:11 am

The software popped up as I was in e-bay. It would not respond to any commands and kept trying to install itself until I turned the computer off. It did say I had numerous viruses and malware, which I don't, yet. McAfee has been good about keeping me virus free.


December 8th, 2010 at 10:12 am

what to asking something i have a roblem with my comuter but i try to fix but your sinteman the dont let me so i need to remove


December 8th, 2010 at 3:12 pm

hi, im really not good with computers, but this security shield is driving me mad. i downloaded the remover, but i can't seem to get it started! please help!


December 8th, 2010 at 7:12 pm

This thing is driving me CRAZY! Everytime I hit the run key it pops up, it has popped up three times while I am typing this commment. I have tried the three other sites to download and run and none of them have worked. Please help me!!


December 11th, 2010 at 4:12 pm

That stupid download keeps shutting down the computer plz help me


December 12th, 2010 at 6:12 pm

THAT SECURITY SHIELD IS A PIECE OF CRAB, DON'T EVER BUY THAT BRAB.


December 17th, 2010 at 9:12 am

does this programe still work?


December 17th, 2010 at 8:12 pm

Make sure to boot into safe mode (F8) while booting computer. This will load windows without Security Shield loading.


December 20th, 2010 at 3:12 am

my boss just clicked on the pop-out and now this security shield can not go. how do you get rid of it. have tried some clues on the internet but can not go through. please help. tsiku55


December 27th, 2010 at 10:12 am

i hate security shield site isfhan yousaf


December 27th, 2010 at 3:12 pm

how 2 get rid of driving me crazy!!!! HELP!


January 1st, 2011 at 2:01 pm

when I connect my PC to internet, suddenly I got some message from security shield.
it said that my PC is unprotected.
what the hell with this product? I don't know about this product….


January 4th, 2011 at 10:01 am

como que se faz pra tirar security shield


January 17th, 2011 at 4:01 am

I got caught out by this scam. I was able to remove it by rebooting in safe mode and removing using some of the steps above.


January 24th, 2011 at 12:01 pm

i keep pressing unprotected, it keeps popping up so does that mean it has taken over or what? i've kept it unprotected but…does that mean its wiping away my computer. please please help!!


January 28th, 2011 at 3:01 am

please can u get rid out security shied


February 7th, 2011 at 6:02 pm

Security Shield will not let me get on the internet to scan and remove…what do I do??


June 19th, 2011 at 7:06 pm

what gives you right to control


July 17th, 2011 at 4:07 am

Security shield messes up all of your computer processes as I was to discover. Dont bother trying to download any removal tools. They probably wont run. Simply restart your computer and keep tapping F8 until the black screen appears. Select safe mode with networking and then press enter.
When windows starts, click start, select programs, accessories, system tools, and then system restore. This should only take a few minutes. It completely removed Security shield from my computer. I hope it works for you. Good luck…


February 11th, 2012 at 3:11 pm

Jehanlyn, Thank you for the advice, I have updated McAffee and it didnt stop it.
Your suggestion cleared the problem.


May 28th, 2012 at 3:55 pm

jehanlyn u r great man. love u bro


September 17th, 2011 at 11:09 pm

THANK YOU Jehanlyn. I thought I was in for a $100 diagnostics charge to fix this scam as it would not disappear no matter how many times I rebooted. Followed your steps below and rebooted in Safe Mode using the F8 key and it disappeared finally…Help was much appreciated!


November 14th, 2011 at 10:33 am

Thank you..Im restoring my computer now. Hope it works. This My Shield came out of no where and completely took over everything. I hope this restoration works. Thanks all for the great advise!


November 21st, 2011 at 2:50 pm

Jehanlyn has the real working solution. Safe mode, system restore, sit back with a cold beverage.


November 22nd, 2011 at 9:59 am

Well I got scammed 50.00 by this program just a few days ago I cancelled my credit card that I used & have to wait til the charge posts to my account & dispute the charges with my bank. I hope I will get my money back. I was scammed big time I feel like an idiot


November 24th, 2011 at 11:14 pm

I got this program on my sons computer and like everyone else it wouldnt let me do anything. However it let me run the Microsoft security essentials that was already present on the system. I updated the advanced settings on security essentials to remove high and severe threats and quarantine low and moderate. I then ran a full scan. after a little bit the scan detected a sever threat and asked if I wanted to clean the computer. After cleaning the computer clicking yes the scam software was gone. So if you have Microsoft Security Essentials already installed on your computer, you will be able to run scans with that even if you cant open system restore or remove software. however, you HAVE to update your advanced settings. The first time I ran the scan it didnt remove it. The second time it did after updating settings.


December 24th, 2011 at 11:23 pm

Jehanlyn, YOU ARE MY HERO!!!!!!!!!!! My parents just got me a $400 laptop and Security Sheild poped up out of no where and wouldnt let me do anything. I was freaking out and then I did what you said and my laptop is now working correctly. THANK YOU SOOOOOOOOO MUCH!!!!!!!!!!!!!!!!!!!!!!!!!


February 8th, 2012 at 4:28 pm

Thanks so much Jehanlyn I was lost your awesome


February 19th, 2012 at 1:31 pm

Jehanlyn awesome fix. whatever you do, do not use the spyware removal programs. they will load and detect, then tell you to buy in order to remove the virus. follow Jehanlyns directions, no money spent, computer restored. thanks again


March 21st, 2012 at 2:05 am

its a bunch of asians who cant spell in english, they created this virus 100% i swear t god what smartarsefkermofos
im so furious, i need to fix my pc, someone help please.

fk this sht off.


March 21st, 2012 at 5:55 am

My Security Shield is a rogue anti-spyware program from the same family as Security Master AV and My Security Engine.


March 22nd, 2012 at 3:12 pm

Im so confused. For some reason it inturrepted my virus ware, that I already had and now I dont know what to do!!!!!! I hate downloading things becuse im so worried now…..


May 30th, 2012 at 1:25 pm

Got the Security Shield and fell for it. A week after my purchase, every trace of the program disappeared. Well, except for the fact that someone in the Mideast now has my old debit card number and has attempted to use it. Luckily, it was caught by my financial institution. Now I have to get some ID insurance.


June 23rd, 2012 at 10:42 pm

I had the same problem. If you use Windows 7 check for a repair disk. You have this if you had backed up your computer before this incident.
The disk will check for problems with your boot directory and registry. Let it run and follow the prompts as needed. Once the system has rebooted the program has been removed.


June 24th, 2012 at 3:00 am

Żal mi tej strony


July 8th, 2012 at 7:08 pm

Is there a legal action that can be taken again these malicious people?