PC Cleaner Pro 2012. How to remove? (Uninstall guide)
What is PC Cleaner Pro 2012?
PC Cleaner Pro 2012 (you can also find it under the name of PC Cleaner Pro) is a legitimate PC optimization tool, which can help you to check your registry and know what errors and junk files are inside your PC system. However, for getting ability to eliminate these issues you will be asked to buy the full version of this program. Is it worth it? It depends on your point of view. We think that you should think twice before doing so because this program reports only about a small part of registries and files that are slowing your computer down. So, their removal can hardly improve the speed of your computer. In addition, there are hundreds of free tools that are capable of finding the same registries and files that should be eliminated. Besides, some users think that this program displays exaggerated reports about the state of the computer. So, you should note that some of the errors that will be discovered by PC Cleaner Pro can lead you to the removal of important files. If you wan to avoid this, you should think about other application, not this PC optimizer. If you have already downloaded it to your PC system or if it has infiltrated it without your removal, you should remove PC Cleaner Pro from the system ASAP.
How can PC Cleaner Pro appear on my computer?
We can't call PC Cleaner 2012 virus; however, it may show up on your computer without your knowledge. That's because it has been actively promoted using bundling. If you want to avoid unexpected components that can be hidden in such free programs as download managers, PDF creators, video streaming software and so on, you should start paying more attention to freeware's installation process. Please, always select Custom or Advanced installation of the freeware and then make sure that you follow every installation step of it. Otherwise, you may need to start dealing with PC Cleaner Pro ads, scanners, alerts and other unwanted activities that are mostly dedicated for making the money. To sum up, we do not recommend using this application and you should choose a different PC optimization tool, if you need one. If you have already downloaded this program to the system, we recommend uninstalling it.
How to uninstall PC Cleaner Pro 2012?
In order to uninstall PC Cleaner Pro 2012, follow these steps:
Questions about PC Cleaner Pro 2012
1) Click the 'Start' button -> 'Control Panel' -> 'Programs' -> 'Programs and Features'
2) Select 'PC Cleaners' and then click 'Uninstall'.
You can also follow these steps:
1) Restart the computer into Safe Mode
2) Press 'Start'
3) Go to 'Control Panel'
4) Find and open 'Add/Remove Programs'
5) You will see an 'Uninstall button' on the bottom right side of the PC Cleaner's "Call us" popup. Press it and complete the uninstall instructions
6) Restart the computer into Normal Mode.
Note that it may produce a pop-up screen, which may hide its remove button. That's why we advise to use automated software to fully uninstall PC Cleaner Pro 2012 from your computer. For that you can use such programs as Reimage, Malwarebytes or Plumbytes Anti-MalwareNorton Internet Security.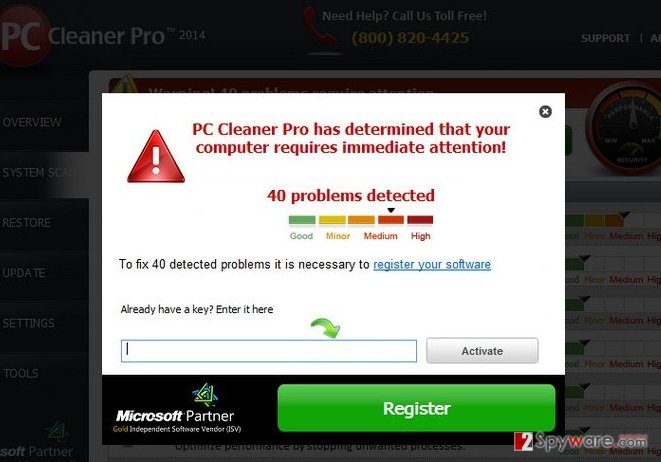 PC Cleaner Pro 2012 manual removal:
Kill processes:
pc clean pro.exe
Delete registry values:
HKEY_CURRENT_USERsoftwaremicrosoftwindowscurrentversionrun PCCleanPro
HKEY_CLASSES_ROOTallfilesystemobjectsshellexcontextmenuhandlerspcprosd.dll
HKEY_CLASSES_ROOTclsid{5c5de06d-cf99-47d6-9bab-61001fee4721}
HKEY_CURRENT_USERsoftwaremicrosoftwindowscurrentversionrun pc clean pro
HKEY_CURRENT_USERsoftwarepc clean pro
{5c5de06d-cf99-47d6-9bab-61001fee4721}
HKEY_LOCAL_MACHINEsoftwaremicrosoftwindowscurrentversionuninstallpc clean pro
HKEY_LOCAL_MACHINEsoftwaremicrosoftwindowscurrentversionuninstallpc clean pro displayname
HKEY_LOCAL_MACHINEsoftwaremicrosoftwindowscurrentversionuninstallpc clean pro uninstallstring
HKEY_LOCAL_MACHINEsoftwarepc clean pro
HKEY_LOCAL_MACHINEsoftwarepc clean pro info
HKEY_LOCAL_MACHINEsoftwarepc clean pro pstatus
HKEY_LOCAL_MACHINEsoftwarepc clean pro version
HKEY_CURRENT_USERsoftwaremicrosoftwindowscurrentversionrun pc clean pro
Unregister DLLs:
pcprosd.dll
Delete files:
pc clean pro.exe
%program_files%pc clean procompcprosd.dll
%program_files%pc clean propc clean pro.db
pccleanpro_installer_eng.exe
pcprosd.dll
About the author