Rootkit.TDSS. How to remove? (Uninstall guide)
Rootkit.TDSS, TDL3 or Alureon [Microsoft] is a malware designed to hide the existence of any process on the infected machine in order to perform malicious and dangerous actions. TDSS may also replace essential system executable files, which may then be used to hide processes and files installed by the attackers. Rootkit.TDSS is installed without user's permission through the use of trojan viruses, whereas trojan virus can download and install additional malware, adware or even rogue anti-spyware applications. This virus may also infect MBR sector, which is executed prior windows boot. Rootkit.TDSS removal can be complicated, but it is essential. When your computer is infected with TDSS rootkit you may encounter the following symptoms:
Google (Bing, Yahoo) search result links will be redirected to various misleading sites that promote rogue products or display bogus advertisements.
Security related websites will be blocked.
You won't be able to launch legitimate anti-malware or anti-virus applications.
You may find that web pages load slower.
Please use TDSS virus remover and remove it as soon as possible after detection. First of all, download TDSSKiller. This tool was created to remove rootkits that belong to numerous malware families, including TDSS. Run TDSSKiller and press the button Start scan for the utility to start scanning. The scan won't take long, only a few minutes. After the scan, it will list maliciius files. Suspicous objects should be skipped and malicious, high risk objects should be deleted. After clicking Next, the utility applies selected actions and outputs the result. Select the correct option and click Continue. A reboot might require after disinfection, so just click Reboot. Now, your computer should be TDSS rookit free. You can download TDSS remover to remove associated malware from the system.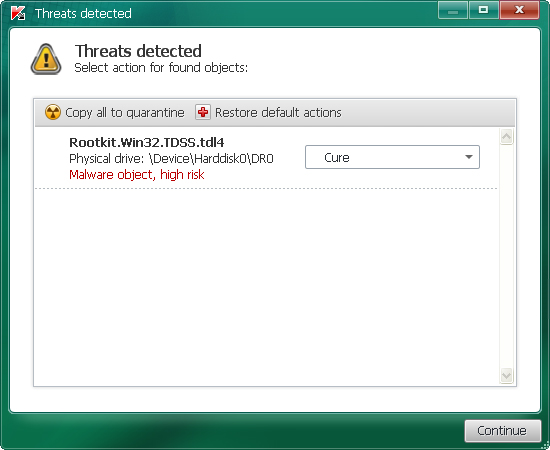 Rootkit.TDSS manual removal:
Kill processes:
RkLYLyoM.exe
podmena.exe
file.exe
~.exe
7-v3av.exe
csrssc.exe
72631899.exe
1776260179.exe
ucxmykkc.exe
Delete registry values:
HKEY_LOCAL_MACHINESYSTEMCurrentControlSetServices_VOIDd.sys
HKEY_LOCAL_MACHINESYSTEMCurrentControlSetServices_VOID[random]
HKEY_LOCAL_MACHINESYSTEMCurrentControlSetServicesUACd.sys
Unregister DLLs:
UACyylfjdaa.dll
TDSSnrsr.dll
tdssserf.dll
TDSSriqp.dll
TDSSciou.dll
TDSSoexh.dll
Delete files:
_VOIDd.sys
_VOID[random].sys
UAC[random].sys
UACyylfjdaa.dll
TDSSnrsr.dll
TDSSmaxt.sys
tdssserf.dll
TDSSriqp.dll
TDSSciou.dll
TDSSoexh.dll
tdidrv2.sys
RkLYLyoM.exe
podmena.exe
tdssserv.sys
file.exe
~.exe
7-v3av.exe
csrssc.exe
72631899.exe
1776260179.exe
ucxmykkc.exe
Delete directories:
C:WINDOWS_VOID[random]
About the author