Remove SZBrowser (Free Guide) - updated Oct 2019
Avast SafeZone browser is the program that gets installed automatically without any additional requests or permissions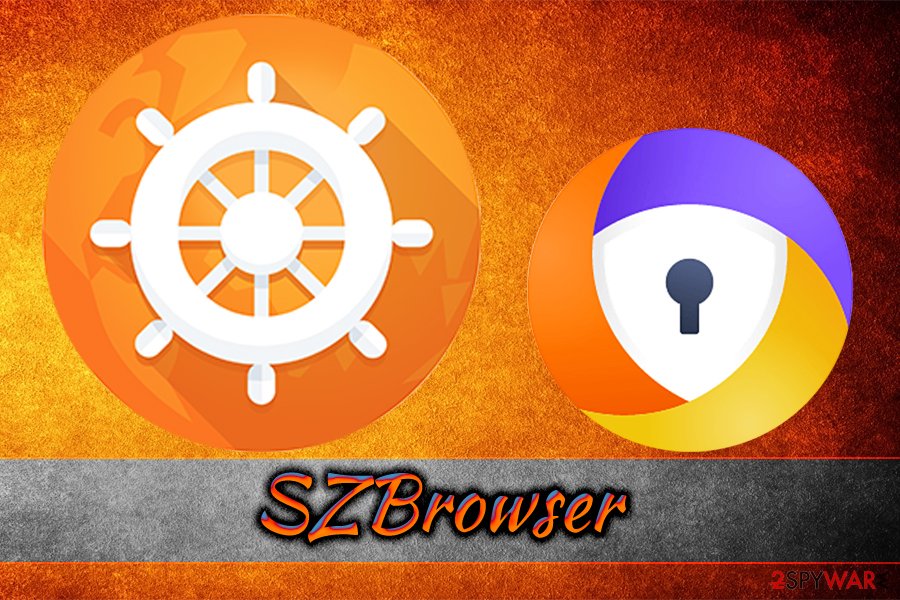 Avast SafeZone browser is the online browsing tool that interferes with default settings on the machine and imports various bookmarks, sets the tool as default browser automatically and makes other alterations without your knowledge or approval. Also, SZBrowser is a component of Avast Safe Zone and is commonly referred to as Avast Secure Browser. All of which get installed behind the users' back. It is usually offered when installing Avast anti-virus software and is based on the Chromium project.[1]
It provides a variety of enhanced features when it comes to internet security, including AdBlock, Anti-Phishing, Privacy Cleaner, and many other security components. However, while some users might be fascinated by its functionality, it was reported that Avast Security browser suffers from JavaScript[2] attacks, which allows hackers to intercept and harvest all private data of the user. Additionally, users complained about lack of support if any issues arise. Avast SafeZone browser virus starts automatically and keeps the victim from accessing any needed page, commonly accessible features. There are too many questions about this browser to claim that it is completely secure.
Summary
Name
Avast SafeZone browser
Type
Browser
Based on
Chromium project
Installation
Offered together with Avast software
Elimination
Follow our instructions below on how to remove Avast SafeZone browser
Protection
We suggest you scan your PC using Reimage to make sure no viruses managed to enter your machine
Avast SafeZone browser was only available with the paid version of Avast anti-virus software, but users can now download it for free online. Nevertheless, some complained about the browser appearing seemingly out of nowhere and were looking for quick removal solutions. 
Chromium is an open-source project started by Google which allows developers to create their own browsers based on Google Chrome. As to be expected, several bad actors to put their fingers on it, which later turned into Chromium virus. Nevertheless, SZBrowser's flaw had nothing to with Chromium itself but was rather embedded in program's feature – SafeZone's Bank Mode.
Google Project Zero researcher Travis Ormandy revealed the security flaw[3] in 2015. He claimed that malicious JavaScript code could be executed into the mentioned feature, granting attackers full access to users' data.  Eventually, Avast patched the security flaw in 2016. However, users who did not patch their software should immediately do it, or remove Avast SafeZone browser altogether.
Avast SafeZone browser includes the following protection features:
Ad blocker: this add-on can be downloaded separately on other browsers, but the feature is automatically included;
Bank Mode: this mode allows users to perform banking and shopping transactions safely. The module runs its own DNS servers, completely isolating users from potential threats;
Password manager: the feature allows users to use suggested passwords and sync them between desktop and mobile applications;
SafePrice: works like a price-comparison tool, offering other options for purchase.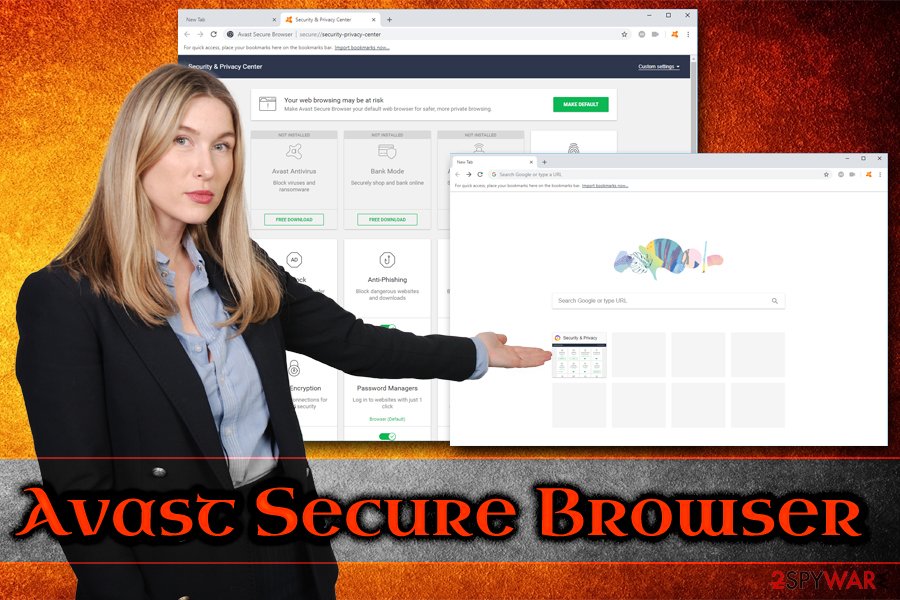 SZBrowser is legitimate application provided by Avast.
There are many more features included in the Avast SafeZone browser. However, due to the already mentioned vulnerability, it is unknown how secure the application actually is. Thus, experts recommend using more prominent browsers like Google Chrome, Internet Explorer, Mozilla Firefox, Opera or Safari.
Among picking reliable browser, we also suggest you use security software and PC repair tools like Reimage. These applications will make sure that your machine is running smoothly and virus-free. Avast SafeZone browser can get deleted with all associated files.
You need to consider Avast SafeZone browser a suspicious tool and questionable program due to all the symptoms and flaw mentioned above, but there are other features this application has that are concerning. There is a possibility that intrusive behavior, deceptive distribution techniques, automatic installations – not good features are caused by misuse of the program. Malicious actors may deliver this Avast SafeZone browser PUP as a real thing.
However, the data tracking is an issue known to people who have some knowledge about advertising services and other shady PUPs. Although Avast SafeZone browser is safe as it is, there are many related advertisers and third-party companies that have other purposes and aims.
Experts[4] always note how dangerous it gets when you visit suspicious commercial pages, gambling sites or use shady applications. Even though the Privacy Policy of the Avast SafeZone browser states about such personal data collection, there are many more issues that dod not get disclosed properly on there or in general.
Our websites use cookies to acquire data that may be used to determine your physical location via your IP Address and automated geolocation techniques, or to acquire basic information about the computer, tablet, or mobile phone that you use to visit us. 
Your IP address, even email address or browsing habits revealing data gets tracked, collected and can end up shared with a third-party company, so your privacy is at risk while you use such browser or visit any suspicious site. These details can be stored on public servers and cookies that track all that data may originate from non-disclosed services. There are more issues that ad-tracking companies did not talk about properly.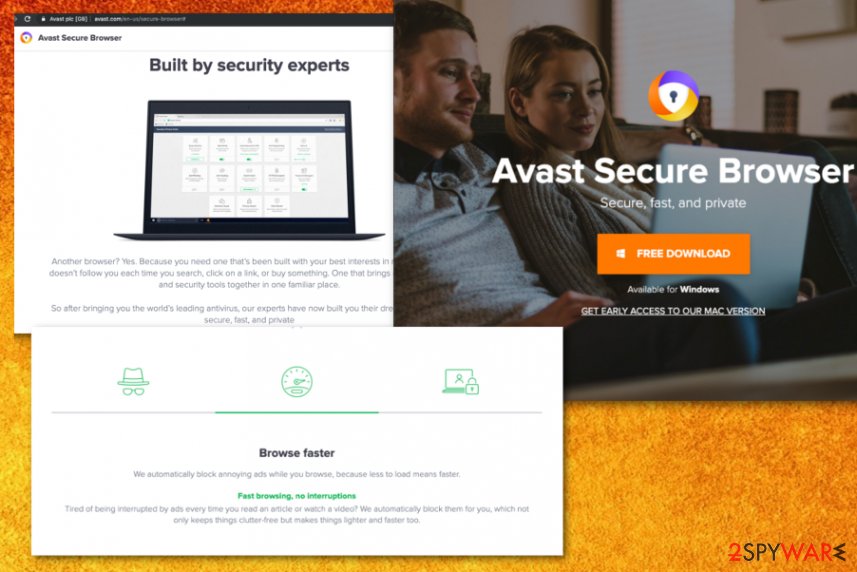 Avast SafeZone browser is the version of Chromium that should block ads and other content but it causes more of them instead.
Avoid potentially unwanted applications by being attentive during program installation
Unwanted applications are often introduced to users' computers during the installation of freeware and shareware. The process is called software bundling and is used by millions of distributors. Some are reputable, but sore software developers can hide adware or other potentially unwanted programs inside installation managers.
Therefore, it is vital to learn how to install applications correctly. First of all, you should be wary of the download source – third-party websites might offer you apps that will flood your browser with ads, coupons, banners, pop-ups and other commercial content, disturbing browsing sessions on the daily basis.
During the installation, make sure you select Advanced/Custom installation settings, as Recommended/Quick ones can hide optional components that would otherwise be installed on the system. Typically, if a Recommended option is picked, users simply skip steps that reveal the hidden elements.
Various popular tools that have a reputation in the past get misused, copied and delivered as real legitimate tools. However, often using a program from the internet that resembles an official app doesn't mean that you use secure software at all.
Uninstall Avast SafeZone browser from your computer
Some people claimed that uninstalling the app is almost impossible. We must assure you that it is not true and getting rid of it is entirely possible. That being said, users should enter the Control Panel and find the app to remove Avast SafeZone browser from their PCs. If, for some reason that did not work, users should enter Safe Mode with Networking.
The man reason for Avast SafeZone browser removal is its unexpected appearance on the machine, and users were really unhappy about this "surprise." While the security of the app is questionable, it is not malicious at all and can be used by anyone, if desired. Nevertheless, as we already mentioned, we recommend users to pick more trusted browsers.
If you need to know about the real purpose or possibly malicious files associated with Avast SafeZone browser virus, scan the machine using Reimage, SpyHunter 5Combo Cleaner, or Malwarebytes. These tools indicate all issues, potential threats and help to remove them entirely.
In case the uninstallation did not succeed, you should enter Safe Mode with Networking and proceed from there:
Go to Sign in screen
Press and hold Shift key and click on Power button and pick Restart
Once Windows restarts, choose Troubleshoot
Select Advanced options > Startup Settings
Pick Enable Safe Mode and click Restart
Alternative Software
Different security software includes different virus database. If you didn't succeed in finding malware with Reimage, try running alternative scan with SpyHunter 5.
Alternative Software
Different security software includes different virus database. If you didn't succeed in finding malware with Reimage, try running alternative scan with Combo Cleaner.
About the author
References
Removal guides in other languages