UK Police virus. How to remove? (Uninstall guide)
UK Police virus (also known as United Kingdom Police virus or Cheshire Police Authority Virus) is a dangerous ransomware, which belongs to a huge group of viruses actively locking computers down. Once they manage to enter the system and block it, they show a large notification reporting about various invented crimes, such as the use of pirated content and similar. You may ask why they do that for. The answer is very simple – this virus seeks to take your computer a hostage and make you pay a considerable amount of your money as a fine. Please, never pay this fine, which is asked on United Kingdom Police virus alert because it's fake. This program is clearly developed by hackers, so you will only lose your money if you fall for it. If you want to unblock the machine, you have to remove UK Police virus ASAP.
HOW CAN I GET INFECTED WITH UK Police virus?
Similarly to Police Central e-crime Unit virus, UK Police virus gets inside the system without asking user's permission. In most of the cases, it can be downloaded together with non-registered software, fake updates and media codecs, or simply after you open an attachment of the spam email. Once this screen locker attacks the system, it disables computer's system immediately after that, and replaces computer's desktop with a fake notification titled United Kingdom Police. Additionally, it lists various articles that claim that user has violated UK's legislation by downloading, playing and distributing various content and software. Here's what it claims:
United Kingdom Police
Police Central e-crime Unit ATTENTION! Your PC is blocked due to at least one of the threse reasons specified below.
You have been violating "Copyright and Related Rights Law" (Video, Music, Software) and illegally using or distributing copyrighted content, thus infringing Article 128 of the Criminal Code of Great Britain.
Article 128 of the Criminal Code provides for a fine of 200 to 500 minimal wages or deprivation of liberty for 2 to 8 years.
(…)
As you can see, UK Police Virus seeks to scare people into thinking that they have a deal with governmental organization that blocks people for violating crimes. You have to ignore this scam message and remove infected files from the system.
HOW CAN I REMOVE UK POLICE VIRUS?
UK Police virus prevents its removal by blocking the system with its fake alert. So, if you want to get rid of this malware for good, you should unblock the computer and then run a full system scan with Reimage, SpyHunterCombo Cleaner or Malwarebytes Malwarebytes. In order to unlock your PC follow one of these options:
Flash drive method:
1. Take another machine and use it to download Reimage or other reputable anti-malware program.
2. Update the program and put into the USB drive or simple CD.
3. In the meanwhile, reboot your infected machine to Safe Mode with command prompt and stick USB drive in it.
4. Reboot computer infected with UK Police virus once more and run a full system scan.
* Users infected with these ransomware threats are allowed to access other accounts on their Windows systems. If one of such accounts has administrator rights, you should be capable to launch anti-malware program.
* Try to deny the Flash to make your ransomware stop function as intended. In order to disable the Flash, go to Macromedia support and select 'Deny': http://www.macromedia.com/support/documentation/en/flashplayer/help/help09.html. After doing that, run a full system scan with anti-malware program.
* Manual UK police virus removal (special skills needed!):
Reboot you infected PC to 'Safe mode with command prompt' to disable thisI virus (this should be working with all versions of this threat)
Run Regedit
Search for WinLogon Entries and write down all the files that are not explorer.exe or blank. Replace them with explorer.exe.
Search the registry for these files you have written down and delete the registry keys referencing the files.
Reboot and run a full system scan with updated Reimage to remove remaining files.
Alternative Software
Different security software includes different virus database. If you didn't succeed in finding malware with Reimage, try running alternative scan with SpyHunter.
Alternative Software
Different security software includes different virus database. If you didn't succeed in finding malware with Reimage, try running alternative scan with Combo Cleaner.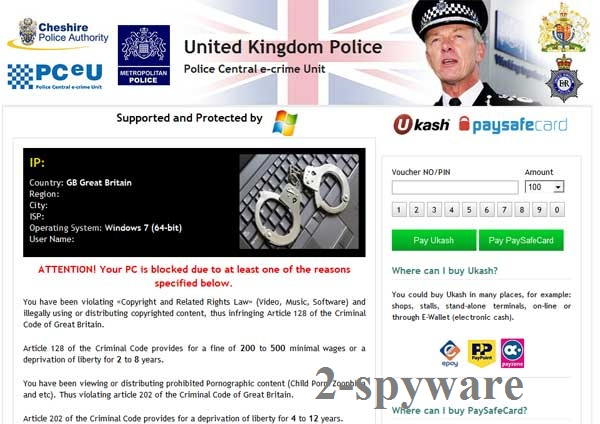 About the author
Removal guides in other languages

December 1st, 2013 at 8:39 pm

My husband just got this virus after downloading Malwarebytes directly from their site. And it wont let him start his computer in safe mode?? Any other options?


December 3rd, 2013 at 9:32 am

you will need to google and find hitman pro and install it to a formatted flash drive then boot up your computer using the flash drive and use the kickstarter option that pops up.


December 29th, 2013 at 2:32 am

Get kaspersky rescue disk and scan computer. helped me.