"Adware" refers to a type of computer software which is designed to inject and display advertisements on the web browsers. Unfortunately, these programs often involve in shady activities behind the curtains and the security experts' agree that it's always better to remove them rather than keep them installed. The reasoning behind this is simple. Unlike legitimate ad-supported programs, adware play an important role in the history of spyware development. Over the years, these parasites have evolved into lightweight and resilient infections which no longer need drive-by downloads to sneak inside the computers. Instead, they easily exploit software vulnerabilities and take advantage of user incompetence regarding safe Internet browsing. Nevertheless, despite the improvements and modifications, the fundamental aim of these ad-based parasites persisted – to this day, they are used to bring easy profit for their creators. To achieve this goal, malware infiltrates the popular web browsers and embeds them with the promotional content of different shapes and sizes: flashing pop-up windows, banners, in-text links, and auto-play video commercials, to name just a few. These advertisements are meant to grasp users' attention and steer them straight to the affiliate websites, this way increasing their attendance and boosting their popularity or sales. Sadly, in this business, user's interests are given the least attention. That's why adware-ridden browsers often become impossible to use due to slowdowns or unexpected crashes, forcing the victims to look for malware removal solutions.
2-spyware experts have a long experience in malware research and have already analyzed thousands of such infections in the span of the last decade. Thus, we want to share the know-how in this article. In the following sections, we will explain how these viruses operate, how they spread and, most importantly, discuss the best techniques to remove them from the infected devices.
How do adware function?
When the adware targets a computer, it first deploys its malicious files on the system to be able to execute its intended functions. After this stage of the attack is complete, and the virus settles in, that's when the hijack symptoms start taking their toll. Here is a list of the typical features that manifest on the infected devices and primary reasons for the adware removal:
Pop-up ads, banners, and in-text links. This content is supposed to promote affiliate parties that are seeking to increase their popularity or sales.
Redirects. Ad-based malware tends to reroute users to affiliate websites with or without their permission. Such activity is also initiated for trying to increase web traffic to these websites.
Unauthorized installations. Often, the victims witness the attempts to install additional third-party software, the so-called browser helper objects (BHO's) without their permission. Unauthorized installations are typically used either to promote the software or to use it as tools for tracking user's browsing habits. Keep in mind that such parasites are typically tricky to remove, so system scan with some security software is always recommended.  
Tracking. People's activity on the Internet is of special interest to these ad-based programs. Gathering the information about their interests, mostly viewed websites, entered data, etc. allows advertisers to create more appealing content. Nevertheless, some of the more malicious programs may even endanger the more sensitive data such as logins, email address, computer's IP address and its location.
System performance issues. Some parasites are poorly programmed, meaning they can cause various malfunctions, including system slowdowns and computer's instability.
Arbitrary updates. These potentially unwanted programs are capable of updating themselves via the Internet without notifying the user. This is why experts recommend to hurry up with the removal before the parasite residing on your PC receives an injection of some new malicious features.
Removal prevention. Most of the ad-supported viruses lack uninstall feature, or it turns out to be useless. This elimination prevention mechanism allows the program to continue operating on the computer without restrictions.
To remain stealthy, the adware may disguise its working components as elements of legitimate applications which help the malware run on the system undetected for an extended period of time. Of course, it all depends on a particular virus, but most of these parasites invade computers the same way Trojan horses do. Therefore, the previously listed behaviour cannot be terminated that easily. In fact, the victims must remove the virus from the computer very carefully, so that no malicious components are left to continue running on the system.
The main Adware distribution principles
Adware programs do not spread around like most viruses. As we mentioned earlier, they may apply Trojan-like principles for the system infiltration, but generally, they do not need additional software or special conditions to arrange and carry out a successful system hijack. Typically, they rely on three basic distribution techniques:
1. Misleading official websites
Most ad-supported programs have their official websites presenting them as handy tools, for instance, powerful browser add-ons, useful shopping assistants or amusing gaming plugins. If you fall into believing that such application is capable of helping you to save the money, you may end up with a nasty virus on your computer. That is why it is always recommended to conduct a little research and learn more about the program you are about to install before hitting the download button.
2. Fake pop-up ads
Clicking on misleading pop-ups can also be dangerous and may lead you to the infiltration of the annoying advertising programs. Such browser notifications typically "recommend" downloading missing software updates, various security products, free system scans and propose similar attention-grabbing offers. Security experts recommend ignoring such content and remind that the safest way to update/install the required programs is by accessing their official websites.
3. Bundling
There are lots of free programs (freeware and shareware products) that have been bundled with adware. Such deceptive software packages are typically promoted on unreliable software sharing sites or peer-to-peer networks. If you tend to visit these places often, you may end up downloading a browser add-on, extension, plugin, toolbar with an advertising revenue-oriented parasite hidden in the list of recommended installs. The worst part of such hijack is that even if you remove the host application, it will not help to get rid of its undesirable companion. Only the professional tools, such as anti-malware or antivirus suites can really banish it from the computer. This distribution method is the most common when promoting similar parasites, such as browser hijackers. To protect themselves, users should always select either "Custom" or "Advanced" installation modes when setting up freeware on their computers.
Adware Removal basics
Adware affects most of the browsers supported by operating systems, focusing on the most popular ones, Google Chrome, Mozilla Firefox, Internet Explorer, and Safari. The times when Microsoft was struggling to keep various web browser-based parasites from their Windows operating systems are long gone and today, its main competitor Apple is quickly catching up with malware designed specifically for Mac OS X computers. The money-thirsty advertisers have even come up with clever ways to exploit Microsoft's pride and joy Microsoft Edge which was considered one of the safest web engines to this day. The fight between the software vendors and malware developers is never-ending, and it will continue for as long as the technology lives on. We, as users must adapt to this new reality and be prepared fight off or remove the malware if needed.
Remove adware from Chrome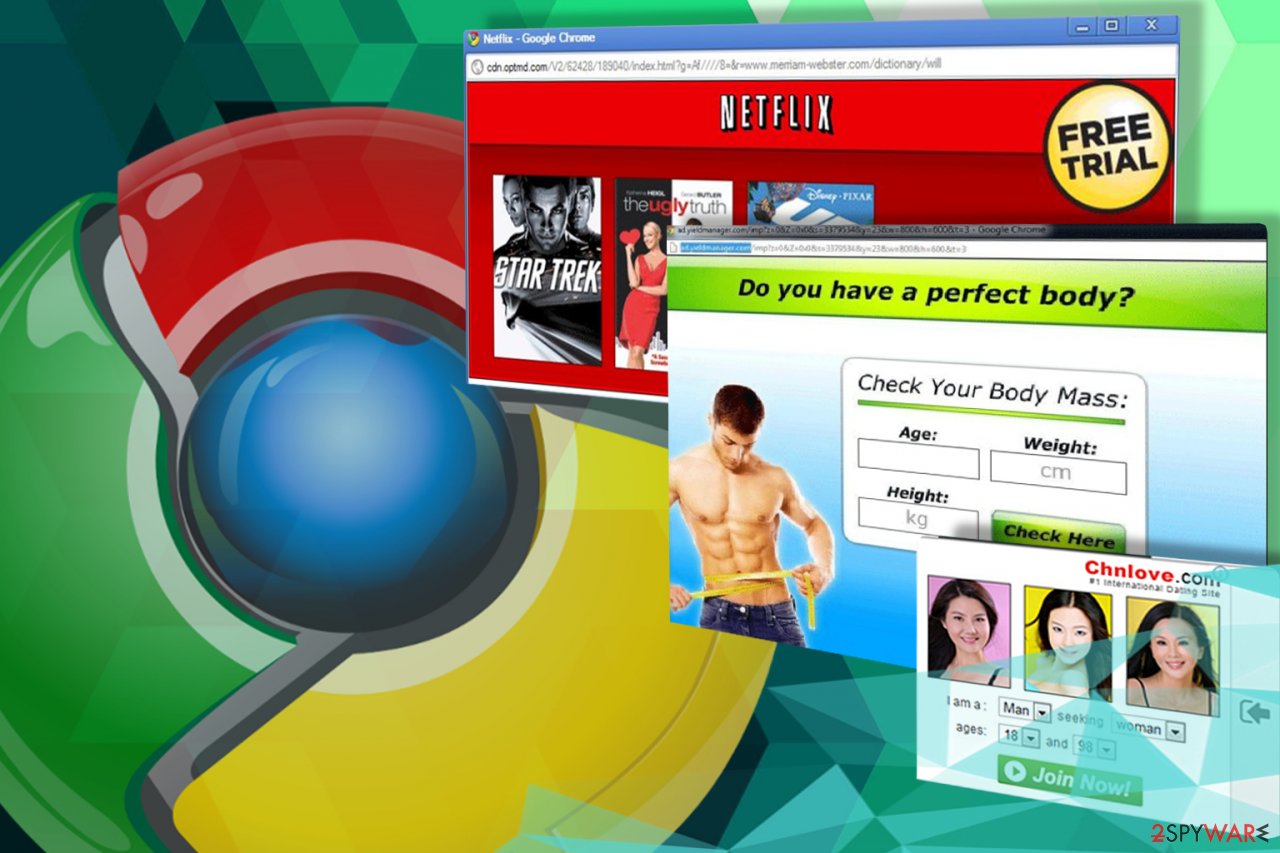 Google Chrome is one of the most popular browsers to be targeted by greedy advertisers, so its users are constantly looking for a professional removal advice. Sadly, there is no magic technique that will rid the system of all malware without exception. Indeed, though their working principles may be similar, every adware is unique so their removal strategies must be fitted according to the particular infection. For some viruses, a simple Chrome reset may be enough, while others may require an entire system cleanup to be rooted out from the computer completely. In any case, you should be prepared and always have a trustworthy anti-malware tool at hand to help you along.
Repair Internet Explorer from adware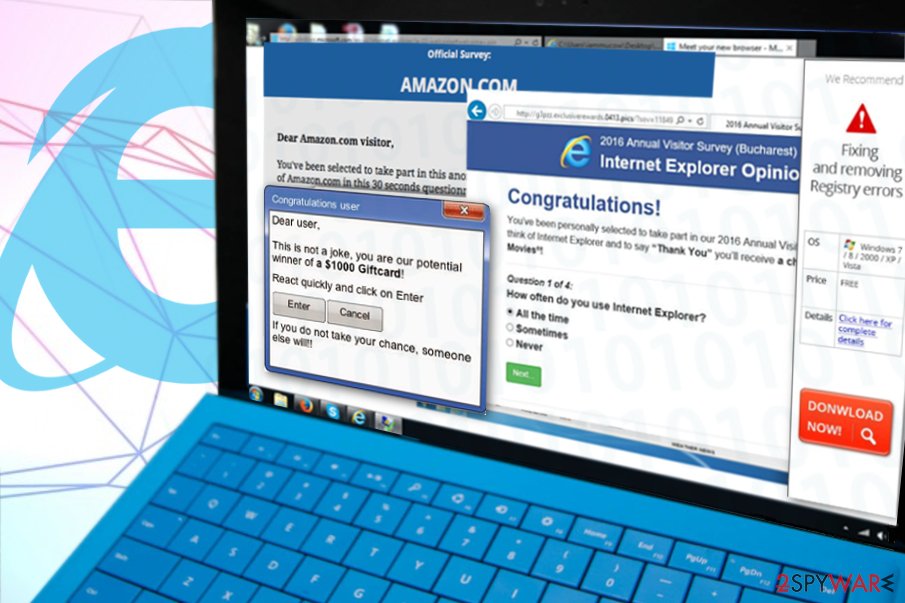 Unlike what most users may think, browser recovery does not necessarily start with the reset. There are lots of other things that must be done before you can remove adware from Windows for good. First, you must investigate the system for potentially unwanted programs and remove them, preferably, with the help of a professional anti-virus software. Then, you should examine the browser's list of extensions and delete the unfamiliar entries. After these steps are completed, you may then perform the browser reset.
If you are using Internet Explorer, it might be that your computer is also running an older version of Windows. In the past, IE has been scolded by users for being prone to malware attacks. This is probably one of the reasons Microsoft has turned to Microsoft Edge in Windows 10. Though the new browser is not completely resilient to viruses, it is not worth questioning, whether you should choose it over the Internet Explorer.
Remove ad-based parasites from Microsoft Edge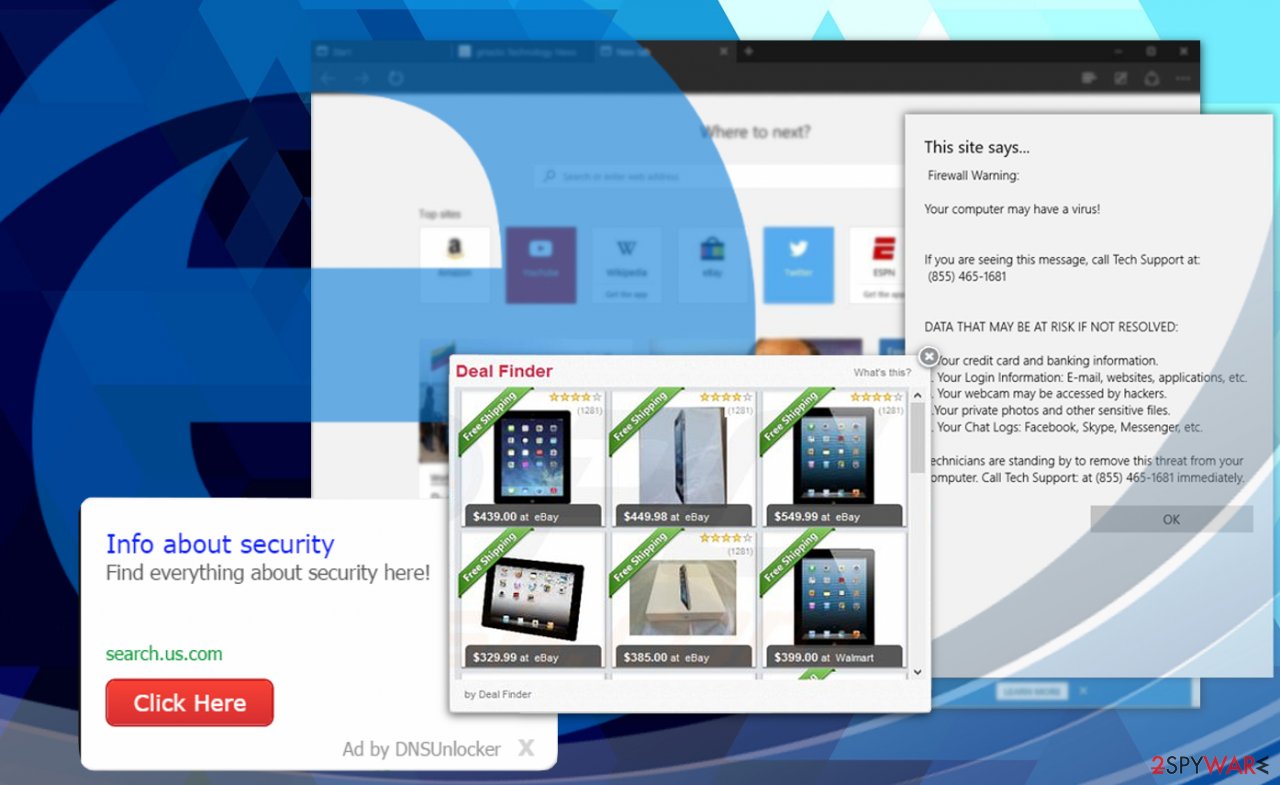 Microsoft Edge is a new and improved browser from Microsoft designed specifically for Windows 10 operating systems. Unfortunately, despite the refined cyber attack resistance capacities, this browser also gets targeted by malware, and the parasites which infect it often apply advanced techniques to achieve that. The next-gen viruses may also hide on the system preventing their removal from Edge. You may bypass these obstacles by employing anti-malware tools and using them to scan the infected system. This way, you will remove the malware from your computer much quicker, and will be able to get back to your default Microsoft Edge settings sooner as well.
Fix Mozilla Firefox browser from adware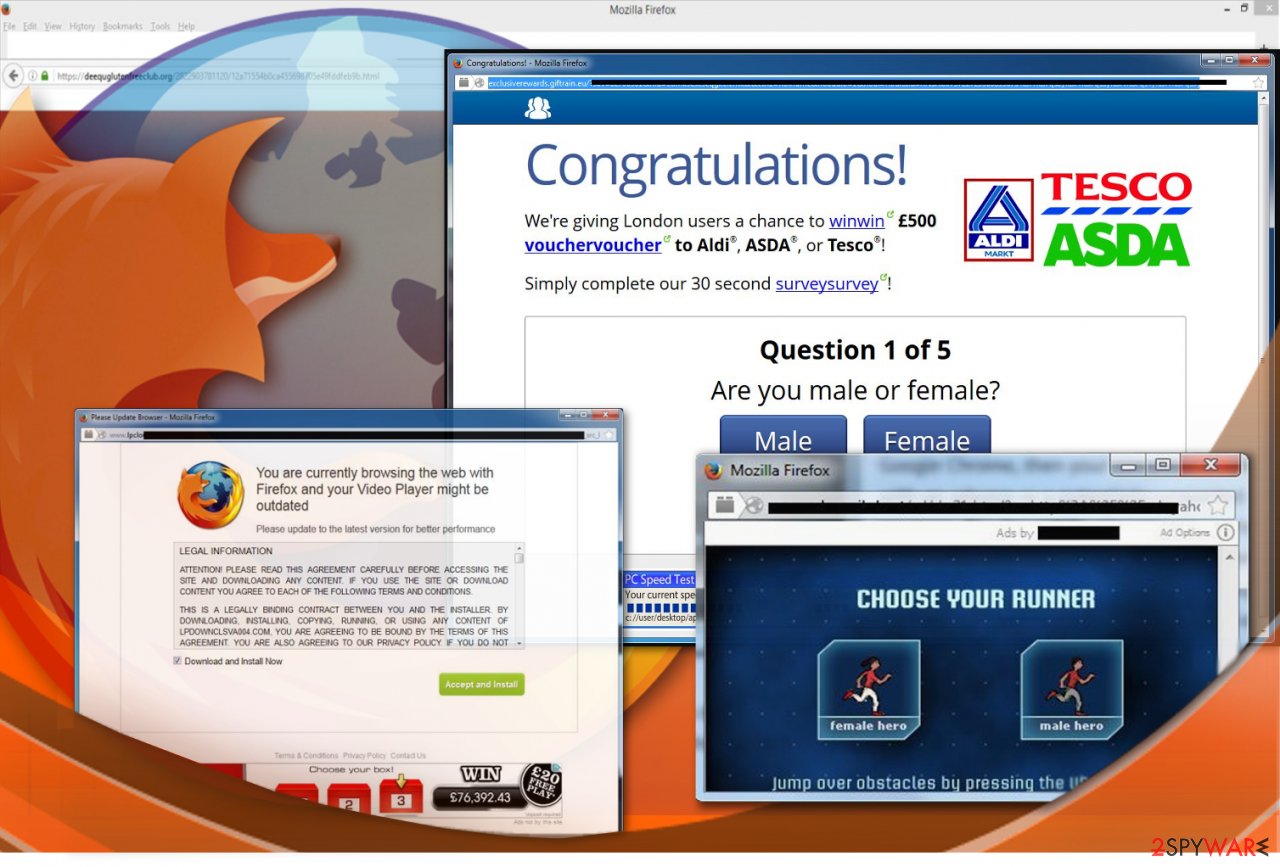 Mozilla Firefox runs both on Windows and Mac OS X operating systems which tempts malware creators to use it for their attacks. They may hide the virus files inside the system in order to prevent the victims from eliminating adware from Mozilla Firefox properly. Luckily, reputable security utilities block the malicious activities and remove the infectious components from the system, so be sure to run a system scan with one of such tools to get back to your regular browsing safely. Do not forget to reset Mozilla Firefox default parameters when the system scan is done! Click the link "How to reset Mozilla Firefox?" or type this into the search bar on the top right corner of the screen to find a bunch of useful browser reset tips prepared by our experts.
Remove annoying ads from Safari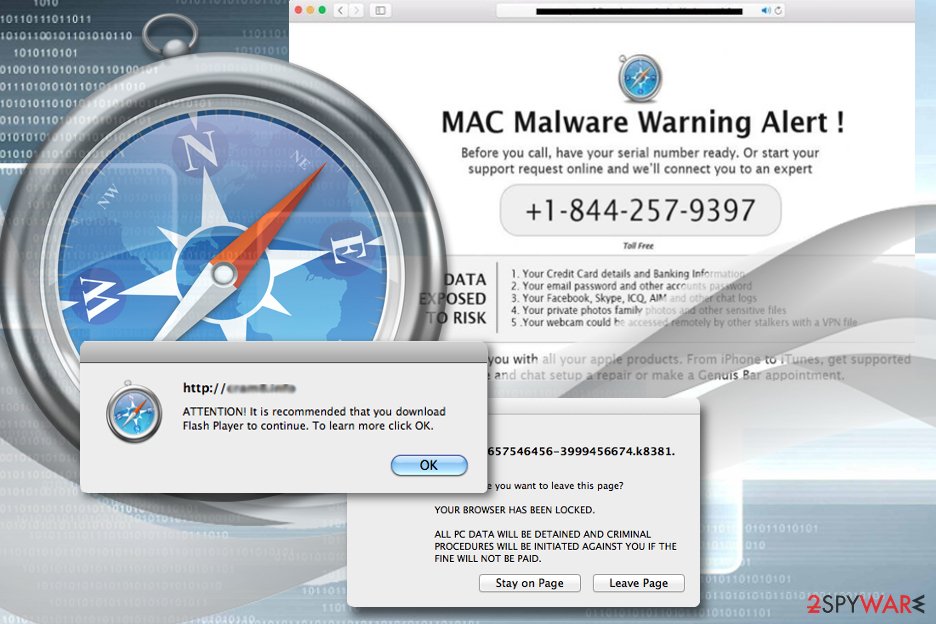 Safari is no longer a safe haven where the Apple users can hide from malware. There are numerous ad-revenue hungry programs that infect these browsers as well. Fortunately, our experts have accumulated a sophisticated knowledge base which is used to compile tutorials that help desperate users remove adware from Mac OS X and its signature browser. You may use these removal guidelines next to all the new Safari-based threats. Despite the usual success of manual elimination, numerous cases have also shown that such computer cleanup approach can be complicated because potentially unwanted programs typically travel around bundled with various other components. In order to avoid leaving unwanted files on your computer, you should always rely on specialized virus-fighting software and clean your device automatically.
The Conclusion on Adware
The most reliable way to remove adware and its components from the corrupted devices is by using a legitimate anti-spyware program. In this case, you should choose carefully because there are lots of misleading reviews on the Internet that may praise completely useless products. Always read the reviews or consult security advisors before obtaining one just to be safe. It's recommended to use reputable and acknowledged anti-malware software to remove adware and its related components from the computer. Typically, such programs have regularly updated virus databases which allow them to detect and eliminate the latest malware infections. Besides, investing in such tools will pay off in the future as they will prevent malware attacks.
Nevertheless, you should remember that automatic scan will only delete the adware components from your computer, whereas you will have to perform the browser reset yourself. Luckily, you can always consult our expert-prepared reset guides that will help remove malware from Safari, Chrome or other web engines.
Latest adware added to the database
Information updated: 2017-05-10