What is alg.exe? Should I remove it?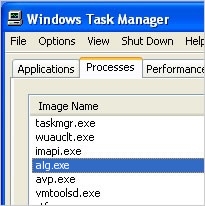 Alg.exe stands for Application Layer Gateway service. Its a system process which is used to provide network access to any program, including the operating system. Typically, it is not recommended to end this program via the task manager, as you will lose all internet connectivity until next the computer restart or Windows login.
The alg.exe executable allows applications (such as IM clients, RTSP, BitTorrent, SIP, and FTP) from a client computer to dynamically utilize passive TCP/ UDP ports in communicating with known ports on a server. This file lets access certain aplications to access the computer through the firewall.
What will happen if I will delete alg.exe?
If you will delte alg.exe you will block comunication ports, or, for advanced users, you will open numerous ports on firewall and create vulnerability for the system. Computer will be prone to threats.
Alg.exe is associated with Application Level (or Layer) Gateway Service and NAT (Network Address Translation), and it is needed to supplement the firewall protection of a network.
Alg.exe is a system process, it is a safe file and does not pose any threat.
WARNING!!!
Some parasites, including BraveSentry, started to use the alg.exe name to hide their processes. You should perform a system scan with free SpyHunter or SpywareDoctor spyware scanner or other reputable spyware remover to check for parasites using alg.exe process if you are in doubt of its legitimacy.
alg.exe is typically located in "C:\WINNT\SYSTEM32\" on Windows 2000 and "C:\WINDOWS\SYSTEM32\" on Windows XP.
If the file alg.exe uses another path, it could be a spyware parasite, a trojan, a worm or a virus! We strongly suggest scanning your system with a spyware remover to avoid further infections.
"RECOMMENDED ACTION BY PC MAGAZINE: If a third-party firewall warns you that ALG.exe wants access, check to make sure you're not double-firewalled. If you are, disable ICF. If you are using neither ICF nor ICS and are warned that ALG.exe is trying to access the Net, deny it. A Trojan horse or worm may be trying to use it as a backdoor." [source]
alg.exe is an executable file which, in case of a malicious infection, starts a parasite or launches some of its components. The most popular parasite to use alg.exe for malicious purposes is Brave Sentry. If you have doubts about the functionality of alg.exe, you should scan your system with a reputable spyware remover.
verdict - status of the file:
diagnosis required
Advice:
If your computer seems sluggish, or you are suffering from unwanted advertisements and redirects to unknown websites, we highly recommend you to scan it with reputable anti-spyware program. Do some FREE scan tests and check the system for unwanted applications that might be responsible for these problems.
About the author
Removal guides in other languages