What is Proxycheck.exe? Should I remove it?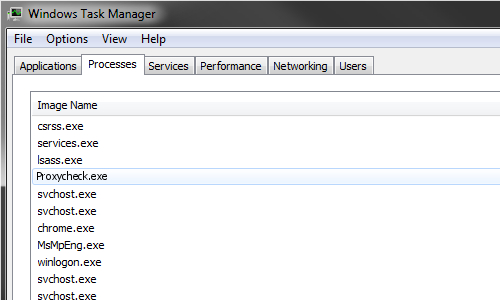 Proxycheck.exe is an executable related to adware program
Proxycheck.exe is a suspicious executable file that is related to AnonymizerGadget – a tool used to browse internet anonymously. Even if might seem like a useful application, users are often disappointed in its functionality, as the questionable application delivers a significant amount of ads in the form of pop-ups, in-text links, banners, deals, coupons, etc.
| | |
| --- | --- |
| Name | Proxycheck.exe |
| File type | Executable |
| Related software | AnonymizerGadget |
| Operating Systems affected | Windows 10/8/7/XP |
| Related to | Adware or malware |
| Elimination | Download and install Reimage for full removal |
Proxycheck.exe is not an essential component of Windows OS and is typically located in a subfolder of "C:\Program Files" and can affect multiple Windows operating systems, including Windows 10, Windows 8, Windows 7 and Windows XP. The size of the file is approximately 30,000 bytes.
If the Proxycheck.exe 32 bit is not located in Program Files, it should raise concerns. The location of user's profile folder indicates that this malicious file can manipulate and monitor other applications. This activity should not be tolerated as it is incredibly intrusive.
Proxycheck. exe is the most dangerous when it is located in "C:\Windows\System32" folder. This might be an indication that Proxycheck.exe is a virus and was created by cybercriminals to engage in dangerous activities, such as mining cryptocurrency on victim's PC, stealing personal and credit card information, allowing other malware intrude the computer, etc.
Even if Proxycheck 32 bit is located in Program Files folder, it might still be hazardous, as malware may sometimes replace legitimate executable files. Note that adware does not damage system files in any way – in contrary to malicious viruses.
Nevertheless, Proxycheck.exe removal should not be delayed, as adware presence can lead to severe consequences too. As soon as Proxycheck invades your machine, you can observe the following changes on your Google Chrome, Internet Explorer, Mozilla Firefox and other browsers:
Your homepage and the search engine might be altered. Typically, these changes are irreversible, unless the adware program is uninstalled;
You encounter a significant amount of ads during every web browsing session. These ads usually link to less-known sponsored websites, generating revenue in the process;
Redirects can lead you to suspicious realms. This way, Proxycheck.exe might eventually lead to malware infections, as the content you are rerouted to may be unsafe;
Additional browser extensions, toolbars, and other gadgets might be installed without your permission;
The browser works slowly, and web pages take a significant amount of time to load.
Therefore, we advise you to remove Proxycheck virus from your computer immediately. Regardless if it is related to adware or malware – both are not welcomed on your PC. To secure a complete elimination of the file and all its components, you should employ a trusted security tool, like Reimage.
Ways adware and malware are distributed
Regular users are not aware of distribution means of adware and malware. Security experts segregate these methods of malware spread :
Spam emails;
Malicious or hacked sites;
Peer-to-peer websites or clients;
Exploit kits;
Software bundling;
Spam emails can often contain malware, including ransomware or trojans. These type of viruses are especially dangerous and should be avoided at all costs. To eliminate the possibility being infected via unknown email, DO NOT open any attachment or click on links, regardless of how believable they might seem. If you absolutely need to know if the email is legitimate, scan the file with anti-virus software first.
Avoid torrent sites and illegal software websites. Hackers can often disguise a virus within program installers and swiftly infect your PC. Not to mention, pirating software is illegal and can be punished by law. To bypass these risks – download software from genuine websites.
Software bundling is often used by adware and other PUP creators (malware is typically not distributed this way). To avoid unwanted programs, we advise reading through installation instruction accurately and thoroughly introduce yourself to EULA and Privacy Policy. Most importantly, users should pick Advanced/Custom installation mode and remove all the tick marks next to add-ons, search engines, optimization tools, media players and similar useless programs.
Eliminate Proxycheck.exe and do not risk your computer safety
As we already mentioned, regardless if the file is related to adware or malware, it should be deleted immediately as it can severely compromise your PC. You can remove Proxycheck.exe manually or automatically.
However, we do not recommend manual Proxycheck 32 bit removal. The reason being is because the file might be malicious and deeply embedded within system files, making it extremely difficult to eliminate. Therefore, pick automatic Proxycheck.exe virus elimination. You should choose one of the programs suggested by our security experts (Reimage, Plumbytes Anti-MalwareWebroot SecureAnywhere AntiVirus or Malwarebytes Anti Malware) and fully scan your computer.
verdict - status of the file:
dangerous file
Advice:
If your computer seems sluggish, or you are suffering from unwanted advertisements and redirects to unknown websites, we highly recommend you to scan it with reputable anti-spyware program. Do some FREE scan tests and check the system for unwanted applications that might be responsible for these problems.
About the author