What is script.exe? Should I remove it?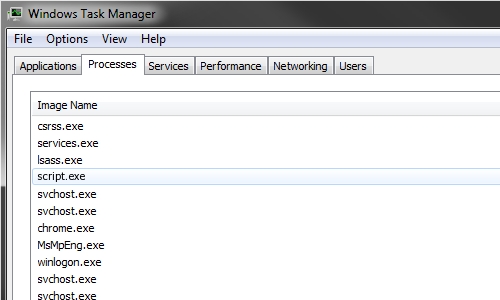 script.exe is a malicious executable file which is used by Bakain virus. The primary purpose of this file is to start a parasite or launch some of its components. Once executed, script.exe file runs a process that is responsible for the parasite's payload, so you should kill it as soon as you notice this file in your Task Manager. Remember that leaving such files installed on the system may lead you to serious problems, such as the appearance of other viruses, the loss of your important data and similar issues. That's because script.exe is a significant part of a dangerous threat, but it can also work on its own.
For eliminating script.exe file and related malware (Bakain, etc.), you should avoid manual removal because you may leave malicious components that were hidden deep inside your computer. This can cause reappearance of your virus. For a complete removal of script.exe-related viruses, we highly recommend using such programs as Reimage or RegCure Pro. They will help you to get rid of all related objects without any delay and will also help you to avoid difficulties that may appear while erasing the file.
Attention! In some cases a presence of script.exe does not mean that your system is infected. The file may actually belong to some fully legitimate applications. If you are in doubt, please check this file using one of previously mentioned programs.
verdict - status of the file:
dangerous file
Advice:
If your computer seems sluggish, or you are suffering from unwanted advertisements and redirects to unknown websites, we highly recommend you to scan it with reputable anti-spyware program. Do some FREE scan tests and check the system for unwanted applications that might be responsible for these problems.
About the author