Antivirus Soft. How to remove? (Uninstall guide)
Antivirus Soft is a rogue anti-virus program that gives false reports of threats and displays bogus pop-ups to make you think that your computer is infected with malware. This fake program is a clone of Antivirus Live and Antivirus System PRO malware. Usually, such rogue programs come from various misleading websites, fake online scanners, but it can be also promoted in Facebook, MySpace and similar websites. Once installed, it will ostensibly scan your computer for malware and display a variety of infections that can be only removed with a full version of the program. However, don't buy it. Keep in mind that the scan results are absolutely false. This is nothing more but a scam. Please remove Antivirus Soft from your computer as soon as possible. Use the removal guide below.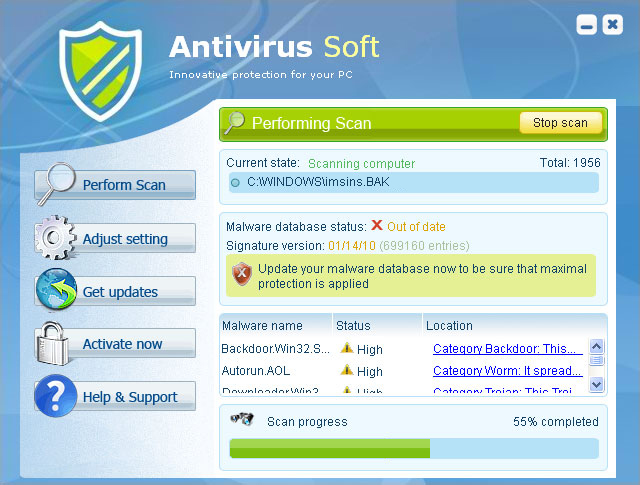 [Figure 1. Antivirus Soft graphical user interface]
When running, Anti-virus Soft will also display many fake security alerts and notifications. For example, you may see fake pop-ups with the following text:
Windows Security alert
Windows reports that computer is infected. Antivirus software
helps to protect your computer against viruses and other
security threats. Click here for the scan your computer. Your
system might be at risk now.
And there is also an error message that states "Application can not be executed". This one will be displayed every time you try to launch an anti-spyware or anti-virus software. What is more, Antivirus Soft will change Internet Explorer's settings. A proxy server will be added under the LAN settings, so that you cannot browse to any web site other than the site for Antivirus Soft. As you can see, this virus is quite irritating. Unfortunately, it can't be removed as a regular program. It won't let you to remove its files manually either. The removal guide below will show you how to get rid of Antivirus Soft from the system once and for all.
Antivirus Soft removal instructions
1. Restart your computer. As your computer restarts but before Windows launches, tap "F8" key constantly. Use the arrow keys to highlight the "Safe Mode with Networking" option as shown in the image below, and then press ENTER.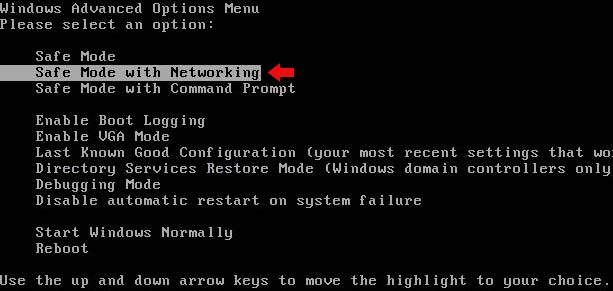 2. Open Internet Explorer. Click on the Tools menu and then select Internet Options.
3. In the the Internet Options window click on the Connections tab. Then click on the LAN settings button.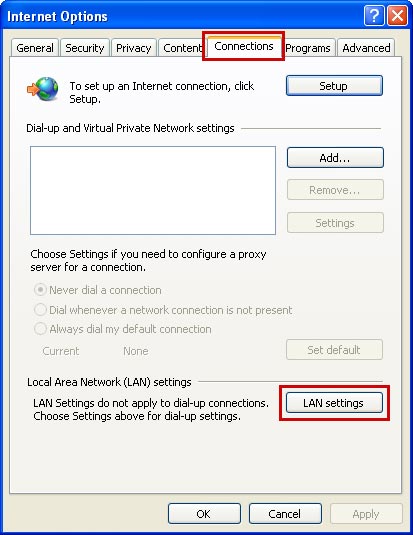 4. Now you will see Local Area Network (LAN) settings window. Uncheck the checkbox labeled Use a proxy server for your LAN under the Proxy Server section and press OK.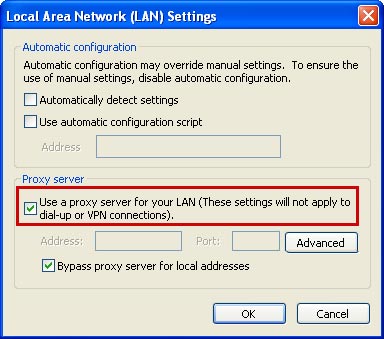 5. Download an automatic removal tool from this page and run a full system scan. Or download it form alternative location.
Antivirus Soft manual removal:
Kill processes:
[RANDOM CHARACTERS]sysguard.exe, for example ghrtsysguard.exe
[RANDOM CHARACTERS]sftav.exe
Delete registry values:
HKEY_CURRENT_USERSoftwareMicrosoftWindowsCurrentVersionRun "
"

HKEY_LOCAL_MACHINESOFTWAREMicrosoftWindowsCurrentVersionRun ""

HKEY_CURRENT_USERSoftwareMicrosoftWindowsCurrentVersionPoliciesAttachments "SaveZoneInformation" = "1"

HKEY_CURRENT_USERSoftwareMicrosoftWindowsCurrentVersionInternet Settings "ProxyServer" = "http=127.0.0.1:5555"

HKEY_CURRENT_USERSoftwareMicrosoftWindowsCurrentVersionPoliciesAssociations "LowRiskFileTypes" = ".exe"

HKEY_CURRENT_USERSoftwareMicrosoftInternet ExplorerDownload "RunInvalidSignatures" = "1"

HKEY_CURRENT_USERSoftwareMicrosoftWindowsCurrentVersionInternet Settings "ProxyOverride" = ""

HKEY_CURRENT_USERSoftwareAvScan



Delete files:


Windows XP:

%UserProfile%\Local Settings\Application Data\\[RANDOM CHARACTERS]sysguard.exe



Windows Vista and Windows 7:

%UserProfile%\AppData\Local\\[RANDOM CHARACTERS]sysguard.exe

%UserProfile%\AppData\Local\\[RANDOM CHARACTERS]sftav.exe



Delete directories:


%UserProfile%Local SettingsApplication Data[RANDOM CHARACTERS] (Win XP)

%UserProfile%AppDataLocal (Win Vista & 7)


About the author