Facebook Friend Request virus. How to remove? (Uninstall guide)
What is Facebook Friend Request virus?
Facebook Friend Request virus is a term used to describe fraudulent method that scammers use to deceive innocent social media users. This deceitful technique relies on fake Facebook accounts that are created using real photos of a certain Facebook user. Scammers track down a person that posts content publicly and steals private photos from him or her. They create fake accounts and post pictures and even copy-paste original status messages posted by the victim. All of this is done in order to make an illusion of a real Facebook account, which scammers later use to mislead victim's friends and swindle money from them. Typically, scammers create a software that sends out friend requests to all victim's friends and later on send delusive messages asking to lend money. What is more, Facebook Friend Request virus can send a malicious link to victim's friends, asking them to click on it and see something interesting. This trickery is quite efficient because victim's friends trust the real person and want to see what they share. However, clicking on such links is highly dangerous, because these sites can be filled with malicious content. Deceptive websites seek to force users to provide sensitive data or install harmful programs, so be careful! If your friend ever sends you a message with a link to suspicious website, ask him or her if the website is trustworthy. Typically, scammers do not reply, but even if they do, we suggest you to check the profile of your friend – enter the name of him or her into Facebook search and see if it finds one, or two same profiles. The most obvious sign that you are dealing with Facebook Friend Request malware is that the person who has just sent you a friend request already sends links inviting to explore some suspicious websites or give money. 
However, your computer can also be infected with Facebook Friend Request virus and as a consequence, your social media account can be used to spread malicious messages to your friends and post deceptive posts on the timeline. In such case, react if any of your friends reports this to you. In addition to that, this type of virus can unblock contacts that you have blocked and add them to your friends again. To fix this, scan the system with anti-malware tool like Reimage and remove Facebook Friend Request virus immediately. For Facebook Friend Request virus removal, you can use a different anti-malware software, for instance, Plumbytes Anti-MalwareWebroot SecureAnywhere AntiVirus. After that, remove unwanted contacts manually.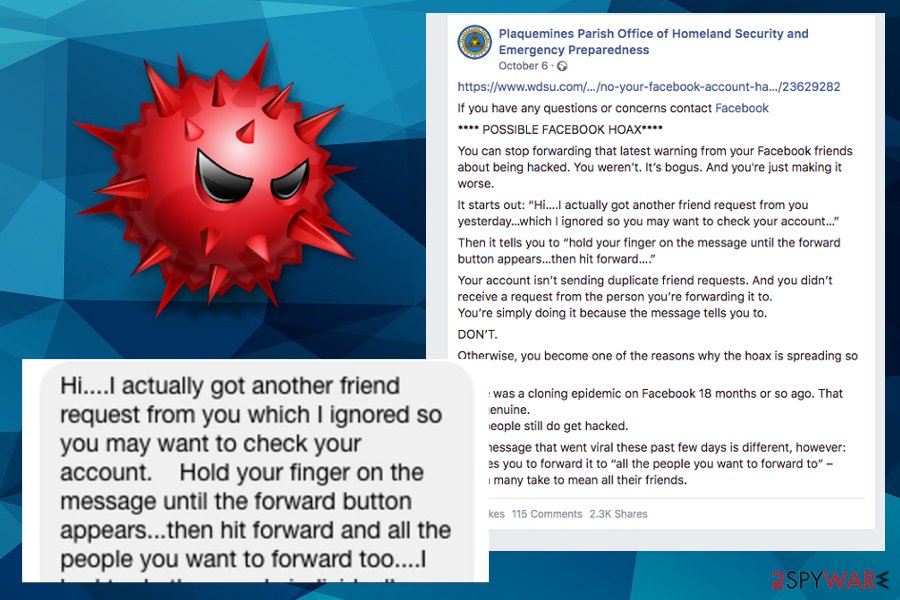 How does this social media virus proliferate?
Facebook Friend Request virus attacks Facebook's users via instant messaging. You may receive a misleading message that looks like it belongs to your friend and offers to click on a link in order to see a picture or watch a video. Besides, clicking on every app on Facebook may also lead you to the infiltration of this virus because they are hacked by cyber criminals quite often. Once the virus is activated, it starts sending the requests for unfamiliar people and may also accept them.
We also want to warn you that Facebook is not an entirely safe place, and there are some minor adjustments you can make to protect yourself and your friends. First of all, we strongly recommend you to make your friends' list private. If it is public, scammers can easily access it and send deceptive messages to them while pretending it is you. Besides, it is advisable to keep sensitive information private. If you can, make your photos accessible for friends only, too.
How to remove Facebook Friend Request virus from your computer?
If you notice strange people popping up on your friends list out of nowhere, or if you see that something suspicious has been posted on your wall without your knowledge, it can be a sign of Facebook Friend Request virus' presence. Please, change your Facebook's password as soon as you can and run a full system scan with updated anti-spyware. Try using Reimage or Plumbytes Anti-MalwareWebroot SecureAnywhere AntiVirus. 
Alternate Software
We have tested Plumbytes Anti-Malware's efficiency in removing Facebook Friend Request virus (2016-10-26)
•
Malwarebytes Anti Malware
We have tested Malwarebytes Anti Malware's efficiency in removing Facebook Friend Request virus (2016-10-26)
We have tested Hitman Pro's efficiency in removing Facebook Friend Request virus (2016-10-26)
•
Webroot SecureAnywhere AntiVirus
We have tested Webroot SecureAnywhere AntiVirus's efficiency in removing Facebook Friend Request virus (2016-10-26)
About the author
Removal guides in other languages