Facebook Message virus. How to remove? (Uninstall guide)
Shapes and forms of Facebook Message virus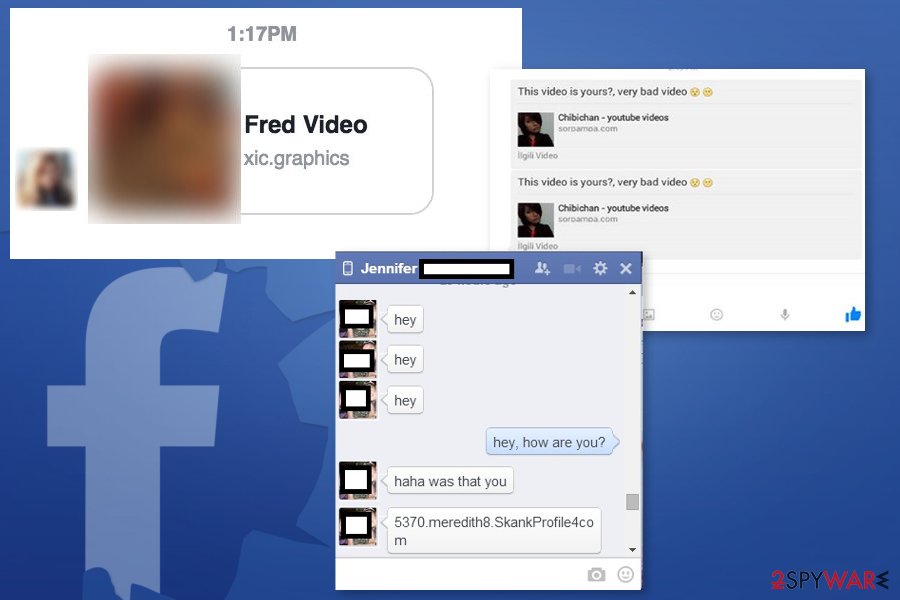 Facebook Message virus (also known as Facebook Messenger virus) is a cyber infection that is spread on the most popular social network. It works as a Trojan horse and belongs to the wide group of the Facebook virus. The virus has been active since 2013 and updated several times.
The purpose of the virus is to hack victim's Facebook account. In order to do that Facebook Messenger virus attacks people via chat window: it pops up as a message from an individual who seems to be your friend and shows a link to some website.[1]
If you click on this link, your PC gets infected with malware, which additionally blocks security software in order to prevent its elimination. What is more, it starts sending the same fake message to victim's contacts via the same Facebook chat windows. Please, ignore all suspicious message that comes to your messenger. Even more, contact the sender and ask about the picture or video.
In 2016, French[2] computer users were attacked by A Facebook Messenger Trojan named "Eko"[3] that can spy on users and collect personally identifiable information. The same year English-speaking computer users suffered from the wave of messenger spam spreading a video virus. There were two examples of messages asking: "You are in this video? " and "This is your video? ."
Last year a variant of Locky ransomware had been distributed with the help of Messenger too.[4] Criminals send a picture in SVG format via Messenger. Once people clicked on it, they were redirected to a website that asked to install fake Chrome extension. Installation of this application leads to infiltration of a dangerous file-encrypting virus.
Another thing, which is usually done by Facebook Messenger virus, is the continuous distribution of itself via victim's Facebook account. You may ask why scammers create such viruses. It has been revealed that the virus helps to steal personal information, such as logins, banking data, and passwords, and controls the machine.
Facebook Messenger virus 2017 continued the work of previous variants. Victims receive a fake YouTube link from their contacts.[5] Once a person clicks on it, the virus redirects to a fake website that looks identical to Facebook. Here people are asked to enter their login details. As a result victim's account is taken over by the hackers and the malicious message is forwarded to the whole victim's contact list.
However, if you clicked on a malicious link, you should remove Facebook Message virus immediately and change your account's password. If you cannot set a new password, you should report about hacked account Facebook via Support Centre. What is more, you should also change passwords of other accounts, especially if you use the same one.
For Facebook Messenger virus removal we suggest using Reimage. This anti-malware will find all malicious components on the system and eliminates its entirely.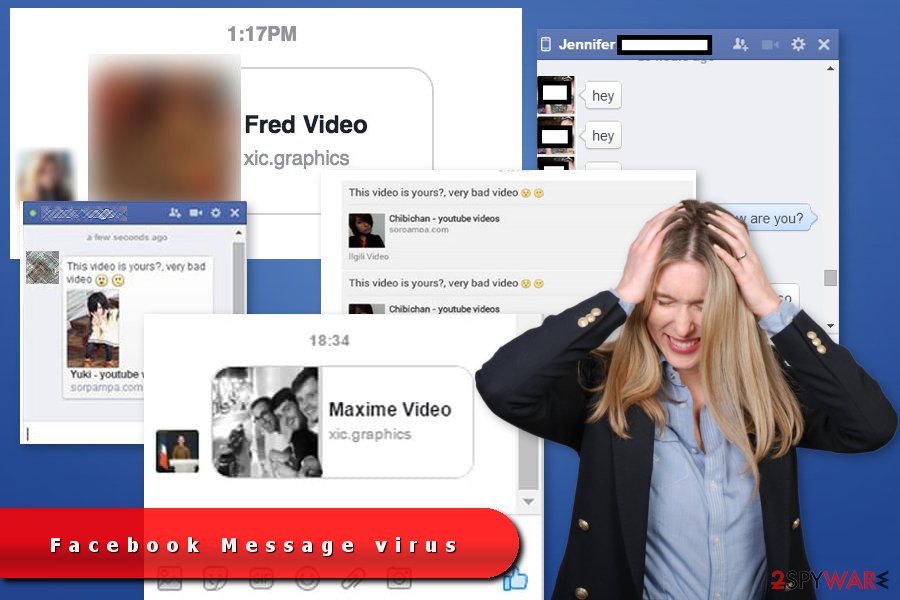 Slide 1 of 1
Distribution of the messenger virus
The virus can easily infect your computer with the help of infected message that shows up on person-to-person chat. Typically, it offers to see a "shocking picture" or "exciting video." Many users of this social network have been tricked by this scheme because this message looks like it was sent by one of the victim's contacts.
Once a person clicks on the infected link, the virus enters the system. What is more, the same message is usually spread further to the victim's contact list and tricking other users. Therefore, it's a chain reaction that is nearly impossible to stop.
We want to remind that the only way to protect your PC, Facebook account and personal details are not to click suspicious links sent from your friends, colleagues or family members. If you suspect that the content of the message seems suspicious, you should ask your friend if this link or file is safe to open.
Keep in mind that cyber criminals tend to reply to victims. However, if you know the person, it won't be hard to identify that you are talking with a different person. Otherwise, you should ask yourself if a person you haven't spoken in years actually wants to share a video or picture with you. Most likely not.
Removing Facebook Messenger virus from the device
Nevertheless, virus on Facebook messenger seems like spam; you should still check your computer's state. Scanning computer with an anti-malware program is especially recommended if you have clicked on a suspicious link or downloaded unknown content.
In order to remove Facebook Messenger virus, we suggest scanning the computer with Reimage, Plumbytes Anti-MalwareWebroot SecureAnywhere AntiVirus or Malwarebytes Anti Malware. You can use other security software. However, you should not forget to update your preferred program.
Another important Facebook Messenger virus removal step is to change your Facebook password. If hackers took over your account, they might get credentials to email, bank, and other accounts. Thus, in order to protect your privacy, you should set a strong password. Keep in mind that good password:
is at least 12 characters long;
has numbers;
has capital and lower-case letters;
has symbols (if allowed);
does not have your name, surname and other personal information included;
is not a dictionary word.
About the author
References
Removal guides in other languages