How to remove mail bombers
A mail bomber is a computer program, which can be installed on any computer connected to the Internet. In most of the cases, you can find such program running on hacker's computer as an illegal mail server, but it can also be installed on a compromised PC. The most of mail bombers are designed to flood victims' e-mail boxes with an excessive amount of e-mail messages filled with large attachments. For trying to trick as many people as possible, these messages are filled with advertising-related notifications, such as notifications about discounts, price comparisons, deals, and offers. In most of the cases, these deals are misleading and can lead people only to PC-related problems, such as slow downs and system's instability. 
A mail bomber is not a parasite or a viral computer application, but its activity can be not only annoying. Beware that such parasite can seriously affect your PC's performance and decrease your Internet speed. In most of the cases, mail bombers are divided into legitimate applications and tools designed by hackers or spammers for their needs. Both, legitimate and malicious, mail bombers are very similar to each other and can be used for the same purpose. The only difference is that legitimate applications (they are called as mass-mailing programs) are related only to reputable companies that seek to inform their clients about their new products, services, updates and other things. In the meanwhile, malicious versions of mail bombers seek to bombard their victims with an excessive amount of spam and misleading email messages.  
Once a Mail bomber enters the system, it causes these activities:
Although mail bombers may look as relatively harmless threats, their activity on the system can lead people to various issues. Beware that a single mail bomber can disable you from receiving and sending e-mail messages. Also, after affecting home or office computers, such threat can lead you to critical issues, such as system slow downs, performance issues, and Internet connection problems. Some people have also reported about system crashes.
If a mail bomber belongs to a malicious person, he or she can install it on a compromised system and use it as an illegal mail server for sending spam. As a result, the affected PC user can be accused of fraudulent activity and may even get into jail. Finally, we must add that mail bombers can pose a threat to user's privacy. Such threats have been actively spreading undesirable e-mail messages that are filled with malicious links. These links can lead you to the infiltration of additional viruses, such as rogue anti-spyware, adware, ransomware and similar potentially dangerous infections. 
To sum up, a mail bomber can easily be used for initiating these activities:
Sending an excessive amount of anonymous e-mail messages that are filled with misleading content, advertising-related content, malicious links and other attachments.
Overloading mail servers and computers by sending numerous e-mail messages with extremely large files attached.
Degrading the speed of Internet connection and decreasing overall system performance. The most of mail bombers have also been causing software instability.
Crashing computers by flooding them with thousands of e-mails or causing the loss of Internet connection.
Providing no uninstall feature, hiding from the user by using renamed processes, files, and other objects.
Distribution techniques that are used for spreading mail bombers
Mail bombers are not considered fraudulent viruses. Therefore, they cannot propagate themselves in the same manner as viruses do. Beware that they must be installed and then controlled by a certain person who has to install them on the system. However, sometimes mail bombers show up on the system after installing other software. To sum up, there are two major ways that have been used for spreading mail bombers on the Internet and infecting computers.
1. A legitimate mass-mailing program can be installed by the system administrator or any other user manually. Only those users who have sufficient privileges for the installation of the software can install a mail bomber on the system. A hacker can also try to break into the target PC system and setup his mail bomber on it. 
2. Malicious mail bombers often get installed with the help of other parasites, such as viruses, trojans, backdoors or remote administration tools. They can get into the system without user's knowledge and approval. Such mail bombers do not have any uninstall function and can be controlled only by their authors or their owners. Malicious mail bombers are mostly compatible with Microsoft Windows operating system. However, the latest versions may be capable of affecting Mac OS X as well.
The most popular examples of mail bombers
Malicious mail bombers and legitimate mass-mailing programs are not considered widely spread programs. No matter which type of program we would try to describe, they would look practically identical. The following examples illustrate typical mail bombers.
KaBoom! and Avalanche are the most popular mail bombers that have flooded computers with an excessive amount of anonymous e-mail messages and spam. They are one of the most effective and widely used mail bombers.
Aenima is an effective, fast and easy-to-use mail bomber designed to send a large amount of anonymous e-mail messages and spam. This parasite can be used to flood certain computers, overload mail servers or local network. Aenima can send e-mails with different header, body or attached files. The parasite doesn't distribute itself and must be manually installed. Its presence in the system indicates that a computer was compromised and now is used as an illegal mail server to deliver spam.
Infected with mail bomber? Here is what you need to know about its removal:
Malicious mail bombers should never be kept on a computer because they can lead you to various issues. They can cause serious slow downs and other problems related to your PC's functionality. The easiest way to find such threat and remove it from your computer is to use a reliable anti-spyware tool. Security experts have selected these effective anti-malware programs that have already fixed thousands of computers: FortectIntego, SpyHunter 5Combo Cleaner.
However, you should also remember that the most of mail bombers have nothing in common with viruses and, therefore, must be manually uninstalled. While you shouldn't forget that not all of these programs have functional uninstall feature, you should remember that you can always receive some help from 2-Spyware.com team. You can add your questions about your issue on Ask Us page.  
Latest mail bombers added to the database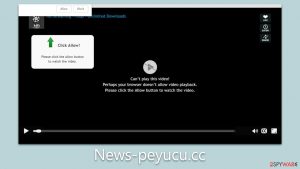 News-peyucu.cc ads can lead you to malicious websites. News-peyucu.cc is a site that sends push notifications to users' devices, resulting in unwanted pop-ups emerging on their displays.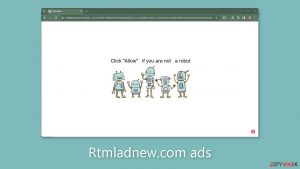 Rtmladnew.com is a bogus site set up by crooks to generate income using pop-ups.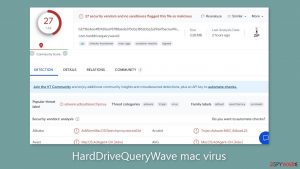 HardDriveQueryWave is a virus with adware and hijacking capabilities that targets Mac systems.
Information updated: 2017-05-11