What is dllhost.exe? Should I remove it?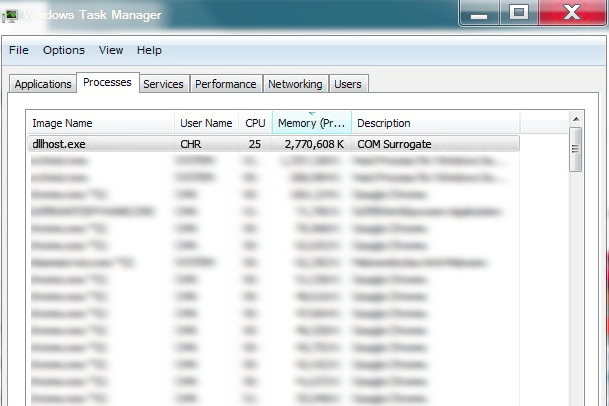 The original Dllhost.exe is a legitimate Windows file
Dllhost.exe is a legitimate process, which belongs to Microsoft Windows Operating System.This executable process is popularly known as COM surrogate, which manages DLL based applications. Besides, it works for controlling the operations in Internet Information Services (IIS), loads the .NET runtime and does other activities. Mostly, the size of this file is about 5,120 bytes, and it is located in C:\Windows\System32 or C:\Windows\winsxs folder.
The dllhost.exe file launches automatically as soon as Windows starts. We don't recommend terminating this program because it's important for the stable and secure computer's work. Alternative names for this process are dllhost.exe *32 or dllhost.exe *32 COM Surrogate.
Usually, there is no need to remove Dllhost processes because they are essential for the operating system to function smoothly.
Dllhost.exe can also be related to malware
Questions about dllhost.exe
Often parasites use files with legitimate names to hide themselves on the system. Dllhost.exe may also be used for launching certain parasites' components or running a destructive payload. Even if the file does nothing suspicious, its presence may indicate that your computer is infected with a particular threat. In such case, an immediate Dllhost.exe removal is required.
If you noticed that your computer runs extremely slow despite the fact that no important programs are running, you should check the origins of DllHost file running on your system. To do this, you need to use an anti-spyware software which will test the reliability of the described executive file. According to reports, these malware variants are known to be using a bogus version of this Windows process to deceive inexperienced computer users:
Worm.Nachi.A.1;
W32.Welchia.Worm;
IamBigBrother.
In order to check is your dllhost.exe file legitimate, look at its location – the original dllhost.exe can be found in the folder C:\Windows\System32 and C:\Windows\winsxs folders.
Remove malware hiding as dllhost.exe file
If you notice signs of suspicious dllhost.exe behavior such as high CPU usage, system slowdowns, and other unpleasant effects, scan your computer to identify the threat. In case your anti-malware program detects this file as a virus, you must eliminate it immediately. Your security software should identify and show you the path to the file – if it is not in System32 ow WinsXS folder, it is most likely COM Surrogate virus.
In case you discovered a malicious version on your system, remove dllhost.exe virus ASAP. To do this, you should employ a trustworthy malware removal application such as Reimage.
verdict - status of the file:
diagnosis required
Advice:
If your computer seems sluggish, or you are suffering from unwanted advertisements and redirects to unknown websites, we highly recommend you to scan it with reputable anti-spyware program. Do some FREE scan tests and check the system for unwanted applications that might be responsible for these problems.
About the author
Removal guides in other languages