What is rundll32.exe? Should I remove it?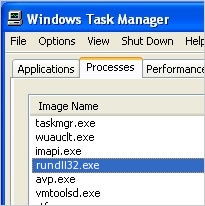 Rundll32.exe file – legitimate process used for placing .dll libraries in the memory
Rundll32.exe is a legitimate Microsoft Windows OS process, which does not negatively affect system's performance. Contrary, original file is responsible for loading and running dynamic link library (.dll) files. However, many people reported rundll32.exe as a virus. While some people encountered a message indicating "Error code: rundll32.exe" while browsing on Chrome, Firefox, IE or Edge, others noticed multiple Rundll32.exe processes within Task Manager and continuously high CPU usage by Rundll32.exe. Such and similar malfunctions of this file may indicate the fact that your PC is infected with the potentially unwanted program, adware, Spyware, Trojan, keylogger, cryptocurrency miner or another infection.
| | |
| --- | --- |
| Name | rundll32.exe |
| Author | Microsoft |
| Found in | Task manager |
| Related to | explorer.exe |
| Danger level | Almost none |
| Checking the trustworthiness of the file | To make sure that Rundll32 is safe, run Reimage  |
The original version of the Rundll32.exe file comes with all versions of Windows OS, and it works by employing a function that is exported from a specific DLL module. In non-technical terms, it helps to execute DLL files and place their libraries into the system's memory. Under no circumstances you should terminate this process because it's essential to the proper operation of your system.
However, if you have noticed multiple Rundll32.exe processes within Windows Task Manager or "Error code: rundll32.exe" pop-up started showing up while you browse the net, we would strongly recommend checking the system with Reimage or another professional anti-malware. It's very likely that you have recently installed a freeware and accidentally agreed upon the installation of its attachments.
The rundll32.exe virus can be triggered by ad-supported web browser extension, which apart from Rundll32.exe ads may cause the following side effects to your PC's performance:
Excessive amount of intrusive ads;
Irritating interstitial ads;
Browser's slowdown;
Redirects to unknown / suspicious websites;
System's freezes, etc.
IMPORTANT: adware infection is not the worst part of this story. The rundll32.exe file is often a target of hackers who seek to hide severe computer infections like spyware, keyloggers, Trojans, and other behind it. Currently, hackers prefer hiding cryptocurrency miners under legitimate Windows operating system files.
The legitimate rundll32.exe file is typically located in the folder C:\Windows\System32. If you suspect that virus or malware might have corrupted the file, check the location of the file. If it's not located in the System32 folder, then you should remove rundll32.exe file immediately. For this purpose, use a reliable anti-virus with updated definitions. Otherwise, it can start downloading malware onto your PC.
Main techniques used to spread malware
Most of the legitimate Windows OS files are built in by default and cannot download as standalone installers. In case of corruption, such system's components are normally fixed by installing the latest updates or using professional systems' optimization tools, such as Reimage.
However, malware that pretends to be one of the system's files can sneak into the system in various ways. One of the primary malware distribution technique is freeware bundling. For monetization purposes, freeware developers supplement their products with multiple browser extensions, add-ons, and toolbars, which travel marked as default components. Consequently, if the user ends up selecting Quick installation method, he or she agrees with the installation of the whole package. To prevent adware and browser hijacker on the system, it's a must to select Advanced setup all the time and deselect unwanted components.
More severe computer infections are usually disseminated via exploit kits, malicious spam email attachments, infected links, fake or phishing websites, phony update prompts, illegal software installed, and so on. Although there's no hundred percent protection from severe computer infections, keeping the system updated and establishing a professional anti-malware tool is usually sufficient to deter infections.
A comprehensive Rundll32.exe removal tutorial
The original Rundll32.exe should not be terminated or otherwise modified. Rundll32.exe removal can cause severe system's malfunctions or even crash. However, if you suspect that this file has been compromised, you should scan the system with anti-malware. There's no way to remove the Rundll32.exe virus manually.
The first sign of Rundll32.exe error is an increase CPU usage. Besides, multiple processes of this file should be running within Task Manager, none of which can be terminated. Finally, general system's slowdowns, crashes, and freezes are also common symptoms of Rundll32.exe malware.
Alternative Software
Different security software includes different virus database. If you didn't succeed in finding malware with Reimage, try running alternative scan with Malwarebytes.
Alternative Software
Different security software includes different virus database. If you didn't succeed in finding malware with Reimage, try running alternative scan with Combo Cleaner.
About the author
Removal guides in other languages