Facebook virus. How to remove? (Uninstall guide)
The ever-evolving face of Facebook virus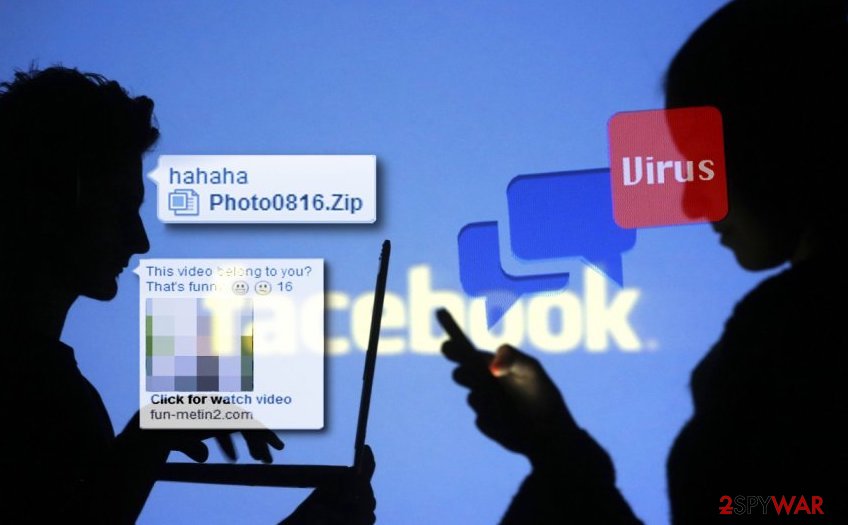 Facebook virus is a term that covers malicious programs and hoaxes attacking users of this social network. It has mostly been mentioned while trying to describe severe issues on this social network. When people are infected with this "virus", they start suffering from series of unpleasant and highly frustrating problems typically resulting in the infiltration of malware.
The newest spam campaign noticed on this social network has been actively used to spread a notorious Locky virus[1] which finds its way to the system with the help of Nemucod downloader. This cyber threat is hidden under SVG Image file using photo_[random numbers].svg name. If you can see files, such as photo_4837.svg, photo_999.svg or photo_8470.svg, in your Messages, make sure you stay away from it because its aim is to infect you with Locky ransomware.
If you don't take care of Facebook virus removal, you can infect your friends and help this malware as well because every user who clicks the link is involved to the distribution scheme. Steps that you can use to fix your account and prevent distribution of malware are provided below. 
After fixing it, don't forget to scan your computer with a reliable security software, such as Reimage, to make sure that it is virus-free. Keep in mind that security experts have already reported about the relation between Facebook virus and ransomware-type viruses, trojan horses and similar threats. 
The main problem
The problem related to Facebook virus arises when the victim is tricked into clicking the malicious link which typically appears in his or hers Facebook Messages. Such links, e. g. photo_4837.svg or photo_8470.svg, are spread together with tricky phrases, like Look at this video, My newest video, OMG! I can't believe this!, etc.
We should also add that the most of these links look like they were sent to you by one of your friends, so there is no surprise that the latest attack of Facebook virus (it was initiated on the end of September 2016) managed to infect more than 800,000 users[2]. It is unknown how many users were tricked in November 2016 attack, but it can be guessed that the amount of victims is similar.
By clicking such link, you infect your Facebook account and start spreading Facebook virus yourself. Besides, such malware can easily infect your computer with the most dangerous computer viruses that are active during the moment of its distribution.
Besides, such threats have actively been used for acquiring sensitive information, such as logins, financial information and other data which is considered confidential. Unfortunately, hackers have already managed to release multiple versions of this threat. All of them are listed below.
If you think that you are dealing with problems on your Facebook account, you might be infected. Check your wall for spammy posts, go thru your Messages for misleading links. If you can remember clicking them, you must remove Facebook virus ASAP. There are several ways to fix your Facebook account and the affected PC system. One of them is to run a full system scan with Reimage.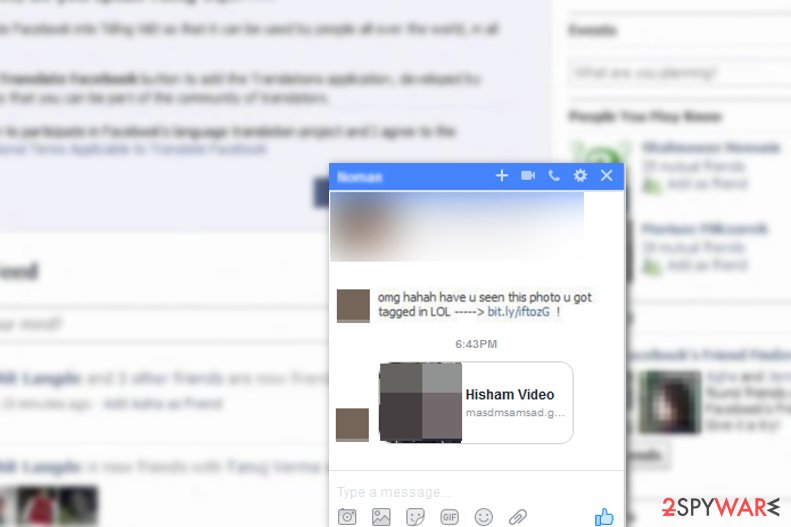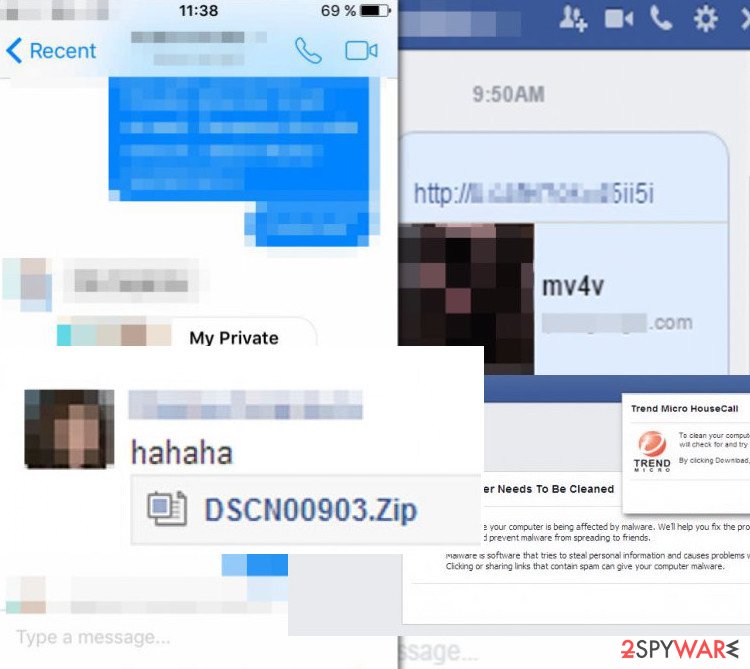 Slide 1 of 2
Ways used in distribution of viruses that target this social network
Mostly, the malware is distributed via fake messages that are filled with malicious links[3]. These messages are designed in a tricky way so that they could ignite a natural curiosity and make people click the malicious link. Once you click it, your Facebook account is hijacked and starts affecting all of your friends.
In addition, if not eliminated, Facebook virus can infect your computer with a trojan horse that starts its activity as soon as it enters the system. It can track you for years to steal your personal information or it can download other viruses to your computer, including ransomware-type threats that can encrypt your files with an advanced encryption algorithm and then start asking you to pay a ransom.
An alternative way used by Facebook virus to infect its victims is related to hacked apps. If you are tricked into granting them with the access to your account[4], you can find out that your social account was hijacked. Finally, using a weak password is also considered one of the main ways used by Facebook malware to affect its users.
Facebook viruses and hoaxes
Facebook Child Porn virus is a dangerous application, which is circulating on Facebook in a form of pornographic video. It may seem that the message, which has this video attached, was sent by your friend and it is safe. However, after opening it, it becomes clear that it's related to child pornography.
Some victims report that it contains a phrase "watch this if you're curious." Once opened, virus automatically attaches to your Facebook account and shares this video with all of your Facebook friends.
Facebook Change Color virus is a sneaky variant of the Facebook virus relying on a message offering to change your social network's background to pink, red, black or another color.
Just like other types of this threat, it may come to your inbox from one of your contacts which has also been tricked by this scam message. Typically, it includes a malicious link helping for scammers to drive more traffic to their online survey. If you click on this link, you will send this scam message to all your contacts.
Facebook Friend Request virus is a dangerous threat which sends friend requests from user's account to unknown people or, even worse, the ones who have been already blocked by a user. It has been reported that sometimes this virus manages to send more than 100 invites to random people.
The point of creating and using this hasn't still been revealed. However, some experts claim that this threat may be used for taking over computers, shutting down their anti-virus programs and similar activities.
Facebook Automatic Wall Post virus is a cyber infection created for increasing the traffic to specific domains. Besides, it may negatively affect your computer's security and try to steal your personal information.
This virus makes people visit the website by showing a tricky message which claims "Sexiest Video ever" and includes a link leading to an unknown website. Besides, it automatically makes a post on your wall and spreads in this way. If you see such message, which seems like it has been posted by your friend, you should remove it from your wall immediately.
Facebook Message virus is another variant of Facebook virus, which is spreading via the chat window. This virus pop-ups up with a message, which seems like it's from your friend and includes a normally-looking link.
Of course, you should never click on this link because it infects computers with the virus capable of disabling anti-virus software and download further malware on the system. If you clicked it, you can help this virus continue spreading.
Invitation Facebook virus is a different kind of virus that has been spreading on Facebook for years. It spreads via a emails and Facebook's message board and announces about a great danger on this social network.
To be more precise, it foolishly warns its victims about the Facebook threat that comes as a message with an attachment called Invitation Facebook and "opens an Olympic torch and will take the whole hard disk C of your computer." However, our security experts have revealed that this message includes trojan horse and other types of viruses. You should remove this scam letter as soon as you receive it.
Facebook Stalker virus is a dangerous FB application which is actively spread on this social network. It belongs to scammers and it is used for stealing personal users' information, not for helping people to find out who is secretly watching their FB profile.
If you happen to all for the FB Stalker app, you can be redirected to a malicious site which looks like a typical login page of the Facebook. Please, do NOT enter your personal information on it because you will lose your personal information and Facebook's account!
Facebook "hahaha" virus is yet another version of Facebook virus. It is a serious malware which is spread via this social network and used for turning the computer into a bitcoin mining machine.
Once it tricks its victims into downloading a malicious .Zip file, it starts initiating serious system's slow downs and similar issues. Please, don't let this malicious software stay on your computer because you can never know what malicious activities it can be used for.
Facebook video virus is a malicious virus that controls victim's Facebook account and automatically posts "My private video," "My video," "Private video" and similarly entitled malicious links on victim's timeline. What is more, it tags random victim's Facebook friends in these posts to draw their attention and invite them to click on the link.
This virus also sends messages including the malicious link directly to victim's friends. We strongly advise you NOT to click on these links as it can automatically download malware to your computer.
Facebook Suspension virus. This variation comes in the form of an official message alerting the victim of the account suspension. In the email, the hackers claim that due to the violation of certain terms of use, the requisite account is to be suspended. However, if this message is sent by a mistake, the user should verify his or her account by clicking the indicated link.
Do not click on it as you may accidentally download a trojan or enable the full hack of your account. There is also a possibility that you might be misled to the infected domain after clicking the link.
Hackers did a pretty good job impersonating the official support team by giving credentials, However, you might still notice type and grammar mistakes. The sender's email might raise suspicions as well. This version can be eliminated with the help of anti-spyware and anti-virus programs.
"Your page will be unpublished" virus. This scam campaign started in 2016[5] when scammers started creating bogus Facebook pages titled as Advert Solution, Ads-Info., Ads Department Social, Team Advert, and similar.
All these pages find pages that belong to business owners, and try to scare them by sharing any of their posts and adding such message to the post: "WARNING: Your Page will be unpublished! Your account has been reported by others. Our system has received the following reports […] To prevent fraud, please re-confirm your Account to avoid blocking here: [link to a phishing Facebook page]."
If some suspicious-looking page has shared your post stating that your page will be disabled, ignore it, and report that person/page to real Facebook staff. If you provide your login details to these scammers, they are going to hack your account immediately and use it for malignant purposes, for example, scam your friends asking them to lend money.
Facebook French Tech Support virus. New Facebook spam campaign has just been launched, this time, focusing on the French-speaking Facebook users. The hackers are now modifying Facebook ads and using fake news articles to redirect victims to a malicious Tech Support scam page located on the "hxxp://scansecure21.online/virus-alerte/" domain.
Once the users land on this page they are "greeted" by a BSoD imitating window and a 29 second audio file (1.mp3) reading out a text in French. The user are being threatened that their computers have been infected with Zeus virus and the only way to protect their banking information and other sensitive details from leaking to the hands of hackers is to call Microsoft support technicians by the given number.
It is yet unknown what follows after calling this number, but we can only presume that this Facebook scam works like any other Tech Support scam and the scammer are trying to convince the callers to purchase questionable software or get remote access to their computers. Be careful with the ads leading to the following domains: hxxp://actu.com-vnv.com/1; hxxp://actu-europe.com/camp1/; hxxp://actulist.com/adv1/; hxxp://hebdo-actu.com/ad-s1/; hxxp://twimflp.com/ads-03/; hxxp://25608498.com/ and hxxp://com-uknewsnow.com/. 
"Congratulations! Your profile has been selected by Facebook" virus. The felons of this malvertising technique created a scam based on the old trick – fake lottery notifications. After getting infected with this adware, you will be bothered by regular pops up stating that you have won an iPhone. In order to retrieve the prize, you need to click on the indicated "Select" button.
Needless to say, that you will not receive any prize at all. In fact, you might be asked to provide such confidential details as credit card number, verification codes, email, and shipping addresses. Such data serves as a valuable material for cyber criminals to improve their hacking techniques. In the best case scenario, your computer screen and email Inbox will be crammed with personal spam messages.
Otherwise, you might be infected with a more serious threat. This adware spreads the same way as other samples of the same category. "Your profile has been selected by Facebook" virus might infect your computer via a recently installed freeware or a plug-in. Illegal file-sharing domains might also deliver this virtual annoyance. If you notice these notifications, ignore them, scan your PC with an anti-spyware program and reset the settings.
Jayden K. Smith scam. In the middle of summer'17, new Facebook hoax emerges. This time, a fake message is circulating the social network, urging users not to accept a friend request from someone named Jayden K. Smith. The fraudulent message states that victim's account will be hacked as soon as one accepts the friend request from this so-called "hacker."
On top of that, the message suggests forwarding the news to all of the user's friends to help spread the knowledge about the non-existing person. This apparently accelerates the spread of this Facebook hoax.
The truth is, there is no Jayden K. Smith, and there's no reason to worry about him. As always, remember that you should never accept friend requests from strangers because your social media account and your friends' lists can provide scammers a lot of valuable information about you.
Remove Facebook virus without hesitations
If you want to avoid Facebook virus, you MUST stay away from suspicious links that are seeking to revive curiosity in you. If you are not expecting a message from your friend, you should ignore his "link" reporting about some video or picture.
If you can't resist the temptation, send your friend a message BEFORE clicking the provided link and ask him or her about it. Additionally, avoid accessing every game or another app on the social network because it may be hacked by cyber criminals.
If you have been tricked by any of these types of Facebook virus, you should change your Facebook's password ASAP in order to avoid identity theft and the loss of personal information. Additionally, contact your friends and let them know that your account is hacked. Finally, download Reimage or Plumbytes Anti-MalwareWebroot SecureAnywhere AntiVirus to scan your computer and prevent infiltration of malware. It can remove Facebook virus and its outcomes within several minutes.
Do not forget to update the software before running a scan to be sure that your PC is virus free. Some of you might try to perform manual Facebook virus removal on their computers. While you can fix your account manually, we would like to warn you that the threat which travels around together with this threat can remain undetected on your computer. 
If Facebook virus is bothering you, please, follow these steps:
Check App settings:
Login to your Facebook account and click this little triangle on your right;
Click Settings to open General Account Settings window;
Look on your left and select Apps;
Click Edit button on Apps, Websites and Plugins option;
Select Disable to protect your account from unauthorized access of third party apps.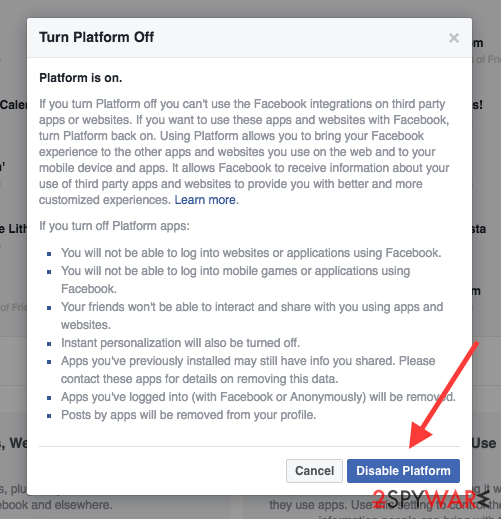 Change your Facebook password:
Click the same little triangle on your right;
Click Edit next to Password option;
Enter your current password and the new one. Retype it and select Save changes.
Scan your computer with security software:
A full system scan is recommended to prevent the further damage of Facebook virus. By running a full scan with Reimage or similar software, you will ensure the removal of trojans, ransomware-type viruses and similar malware which has been spread with the help of this virus.
About the author
References
Removal guides in other languages